2011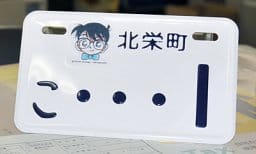 In Japan: The Japanese prefecture of Hokuei announced that they will begin issuing Detective Conan-themed license plates for mopeds. The plates will begin issuance on Tuesday, May 24, and applicants will be able to register at Hokuei's town hall at 8:30AM. 500 plates were made, which will be free to new applicants and 500 yen for those who wish to exchange an existing plate. The town hopes that the plates will serve as mobile billboards for the town, which is the birthplace of Detective Conan creator Gosho Aoyama and hosts the Gosho Aoyama Manga Factory museum.
2010
In America: Viz Media launched an online English version of Ikki magazine. The website was created to promote and launch new titles, and to allow Viz to gauge interest for print editions of said titles. The site also contains creator interviews and features that were run in the original Japanese magazine. The site launched with the first chapter of Daisuke Igarashi's Children of the Sea and an interview with Igarashi.
2008
In Japan: The Kagoshima District court ruled that Banpresto must pay 26 million yen to a child that suffered brain damage after choking on a plastic capsule. The child was two years old in August 2002, when he came home with a toy capsule from a Gashapon vending machine. The capsule lodged itself in the boy's throat, and he was required to have it removed in a local hospital. By the time the capsule was removed, the boy suffered severe brain damage due to low oxygen.
The Kagoshima District Court ruled on Tuesday that Namco Bandai Games' Banpresto unit must pay 26 million yen (about US$250,000) to a child who suffered brain damage after choking on a plastic capsule. The capsule was used to hold a prize from the company's Gashapon vending machine line. The legal representatives for the child and his parents had asked for 180 million yen (US$1.7 million). Bandai Namco, parent to Banpresto, argued that the capsule fulfilled the Japan Toy Association's toy safety standards. The court declared that it is reasonable for children under age three to play with the capsule, and suggested that they have multiple holes to allow air-flow and prevent suffocation.
2007
In America: US Armed Forced newspaper Stars and Stripes reported that the Commander, Naval Forces Japan's public affairs office would produce a manga. the manga would explain the force's mission tot he Japanese public, and aimed to reach Japanese people in their twenties and thirties. Commander David Waterman, project spokesman, commented that "We used comics as a means to introduce a summary of [a defense white paper] that is easily understandable for young people." The 40-page title featured a male and a female sailor on the U.S.S. George Washington, and detailed their experiences abroad, as well as in Yokosuka Naval Base.
2003
In America: ADV Films announced that they acquired the rights to produce, and already began pre-production of a live-action adapatation of Neon Genesis Evangelion. The day prior, Variety reported that the film was int he works, though no formal announcement had been made. The film was to be a collaboration between ADV, Gainax, and Weta Workshop, Ltd. As many recall, this project was never actually finished, and ultimately cancelled as ADV Films filed bankruptcy.
1993
In America: Animerica magazine kicked off its third issue, with a cover story on Bubblegum Crisis.