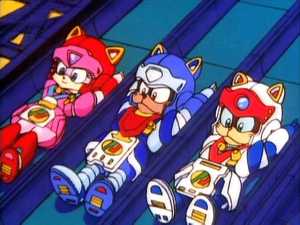 It's the middle of March, which can only mean one thing: The licensing season is officially in full swing. This is the time of year that we begin to see players within the industry, both large and small begin to show off new titles and develop their swagger before convention season begins. We've already seen the first rumblings of the season, as Discotek stepped out swinging with two licenses: Samurai Pizza Cats and Casshan: Robot Hunter.
Now, for reference, convention season can normally be said to start on Easter Weekend (April 6-8 this year), when Anime Boston an Sakura-Con kick everything off. This year, they'll be joined by six other conventions:
Anime Matsuri (Woodlands, TX)
CGA Show Space Coast (Cocoa Beach, FL)
Dee-Con (Dundee, UK)
FreeCon (Tallahassee, FL)
Middle Tennessee Anime Convention (Nashville, TN)
Triad Anime Convention (Winston-Salem, NC)
This leaves about three weeks until the big weekend. During this period, we can expect to see to see further announcements that tease and tantalize, as they set the tone for the barrage of conventions ahead. Like Discotek's revelations today, we should begin to see smaller titles come to light that can bolster enthusiasm and get people talking. We won't see another huge crowd-pleaser like K-On!!, nor will we see anything to the caliber of Tiger & Bunny or Toaru Kagaku no Railgun.
Instead, the build-up to con season will be punctuated with smaller titles: shows that people will get people talking, but would also be completely buried in the rush of a busy convention weekend. These are titles that will do decently well at market, but they certainly do need the lull that occurs before the storm. Last year, we saw FUNimation acquire Black Butler and Baka & Test, while Section23 added Papillon Rose and La Corda D'Oro. Nozomi revealed their license for Dirty Pair, while Media Blasters was busy licking its wounds after a series of painful furloughs and layoffs. The year before, we saw Viz announce Hayao Miyazaki's essay series, and ADV started selling episodes on iTunes.
And so on.
Hopefully, as the next few weeks roll on, more interesting revelations and announcements will come to light. While the big guns at the convention are always exciting, the pre-con revelations can provide fun spectacles in and of themselves.