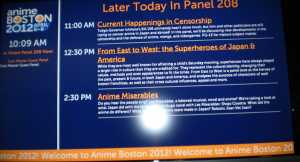 For the record: The formal title of this panel was "From East To West: the Superheroes of Japan and America."
The Superheroes panel returned for a second straight year. Since Ken Haley was sick with the flu, a few changes needed to be made to the panelist lineup for the event. Colin Jansen filled in for the role of Ken. and brought his own expertise to the discussion.
Much like last year, we traced the history of Japanese Sentai shows and western superhero comics, from the pre-war days to the present. With a year under our belts, we had comments and criticisms to work from as well as a good understanding of how the content was supposed to flow, and what needed to be tuned up. We went above and beyond, looking for new facts and topics to add, from Astro Boy predecessor Tank Takuro to Go Nagai's non-mecha contributions to anime.
And then there's the bad jokes. Lots of very, very bad jokes. Still, the panel as a whole was a far tighter experience than what we presented in our inaugural year. The topics were placed more logically, our overall content covered a wider range, and we managed to prevent the once-prevalent problem of dead air.
Anyway, I hope that you do enjoy this year's presentation. It was a ton of fun to work with Sam again, and to present with Colin. It certainly was a pleasure, and I do hope that the panel runs again next year.
[yframe url='http://www.youtube.com/watch?v=nTqN4wmxsgg']