A Brief Word From The Author: I'm Sado from Miccostumes.com. I love anime, cosplay, and gaming on my PS3 and XBox 360. I hope that my articles will help you in your cosplaying endeavors!
Required Tools
Art Knife
Glue
Scissors
Spray Paint
White Latex
Required Materials
EVA [Foam Rubber] (5mm & 1mm)
Foam Board (5mm)
Paperboard
PVC Pipe
Instructions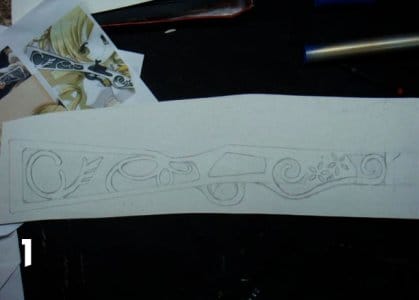 Step 1: Draw the gun's stock with the pattern on the paperboard.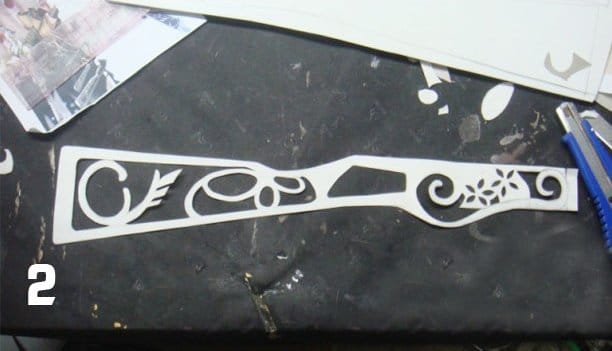 Step 2: Cut the stock with a scissors or an art knife to create a stencil.
Step 3: Use the stencil to draw lines into the 5mm Foam Rubber. Cut out the stenciled segments with scissors or an art knife. As always, be careful as you cut!
Step 4: Draw several under-layers that are smaller than the original size (depending on the thickness of the material used). This only applies to EVA, as wood, molded product, or other materials would be treated differently.
After this, repeat steps 3 & 4 to create a second set.
step 5: Attach the under-layer to the pattern frame. Repeat for the second set.
Step 6: Now, we'll give the gun some depth. draw a line across the paperboard in the thickness that you desire, and cut it out. Make sure that its length of the paperboard matches the gunstock you just made.
Step 7: Place the paperboard cut in the previous step on the 5mm EVA. Use the paperboard as a guide to draw a line, and cut along the line. More advanced cosplayers can draw directly on the EVA.
Attach the new EVA strip to the bottom pattern board, like you're making an empty box.
Step 8: Attach the top pattern board to the assembled stock.
In figures 9 & 10, you can see what the gunstock at this point. It's basically a hollow box.
Step 9: Insert the PVC pipe into the hollow stock, until it reaches the end of the stock. The size of the pipe depends on the size of the box you make – be sure that you're able to insert it.
Step 10: Cut the spearhead as shown in Figures 12 & 13. Make the details on the barrel with 1MM EVA, and the front sight of the gun with 5MM foam board. (You can also use 5mm EVA, but it is a little soft.)
Step 11: Trace and cut the trigger part from 5mm Foam Board. Add this to the stock as pictured in Figure 14.
Step 12: Trace and cut the hammer part, also using 5mm Foam Board. Add this to the stock as pictured in Figure 15. (You can use a screw to make it mobile as the picture shows.)
 Sado is  the Sales Director at Miccostumes.com. Many thanks for her guest contribution!