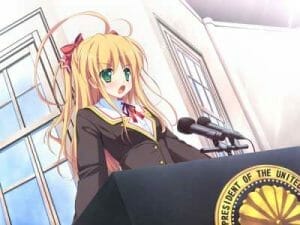 Good evening, readers. Welcome to our annual State of the Herald address. Yes, this is usually my soapbox to reflect on the year as a whole. And yes, I'm aware that it's five months late. However, in my defense, things have been incredibly hectic over the past year!
Last August, Ben and I finally said goodbye to Anime Dream, as we posted our final articles, and said our farewells to the site's readerbase. Since then, I've shifted my attentions strictly to making The Herald grow and prosper. In November, we unveiled our new layout, which boasted a number of improvements to the existing structure. The most notable of these was the fact that Internet Explorer didn't completely break the visual experience.
At the same time, we've added two new writers to our fold: Anthony Simpson and Mitch Heilman have joined as our latest reviewers in the past few months. And, while we've only seen a few articles from each, it is clear that they are becoming key, valued members of the team.
And, for the most part, our effort to grow have paid off. We've seen a 33% increase in readership year-over-year, and a 44% increase in visits. We've continued to grow, even as many sites have seen reductions.
In the next year, I hope that we can continue to grow and expand. There are still a number of improvements that can be made to improve your overall experience, and I'd like to try to address as many as possible going forward. At the same time, I'd like to start working with the rest of the staff to facilitate interviews, or to help in the development of their own articles.
We're entering an exciting year for Anime Herald. And, as we grow and change, I hope that you continue to join us for the ride. To everybody reading, and to my fantastic staff, I want to say thank you for your support. Everything you've done, whether it's contributing articles or just coming by to read, has meant the world to me. And I hope that you all continue to join as we move forward.