Editor's note: This year's coverage of New York Comic Con was graciously provided by Jeff Tundis, of Order of the Nerd. I want to thank Jeff for hitting the show floor, and covering the event on our behalf. You rock! -Mike
Elsewhere on this site there is an article by Joe Motta talking about comics writer Jonathan Hickman. I won't bore you with details, suffice it to say Hickman is one of the best (if not the best) writers currently working in comics. His current work includes Avengers, New Avengers, Infinity, Secret, Manhattan Projects and East of West, which is one of the spotlight panels I attended over the weekend.
East of West is published by Image Comics and is a dystopian, sci-fi western wherein the Four Horsemen of the Apocalypse are set on killing the President and Death, feeling betrayed (with looks inspired by Clint Eastwood's Pale Rider), goes astray. As the tagline on the recent collection states:
This is the world. It is not the one we wanted, but it is the one we deserved. The Four Horsemen of the Apocalypse roam the Earth, signaling the End Times for humanity, and our best hope for life, lies in DEATH.
The art is by Nick Dragotta and he and Hickman formerly worked together on Fantastic Four. Feeling an artistic synergy (which Dragotta exemplified by describing a scene where Thor cried), they decided to try and develop a creator owned project together. Hickman wanted to do a western, Dragotta wanted to do sci-fi. And, voila! East of West was born — an instant smash that sold out its first issue in the initial week of release.
Dragotta described Marvel as a good "day job," but the dream was always to work on a creator owned project. The opportunity to work with Hickman was a "no brainer."
The initial idea for an opening scene was a man riding a horse. The horse suddenly falls off a cliff and plummets to a canyon Mega City far below, our only indication of impact a "splat" in the fog.
It's not just a sci-fi western, there are also Asian, European and Theological influences. Both creators are fans of Dune, and Dragotta immersed himself in Manga to expand his horizons (especially Katsuhiro Otomo's Akira and Tsutomu Nihei's Knights of Sidonia and Biomega). Dragotta wanted to bring that type of sweeping vista and depth to the world of East of West.
The project is very collaborative, Hickman writing full scripts only when required (such as dialogue heavy, emotional scenes with many "beats" to hit). A long action sequence might be described in the script as "page 1-15. Battle scene. Go with it. Showcase everyone's powers," leaving the art direction fully in Dragotta's control.
Hickman described Marvel work as similar to an assembly line where you have to turn in full scripts (which then go to an editor, the artist, etc). When working on Manhattan Projects with artist Nick Pitarra, he discovered that comics could be much better if you simply trust your collaborator to make their art. That personal investment and back and forth process will lead to a better product. At times on East of West, even colorist Frank Martin will be given free rein to paint, creating much of the atmosphere on the page.
The covers feature half-images, with design and coloring by Hickman.
Death's robotic horse was originally pitched as a dragon (or a triceratops) before settling on the canon body and long Don Quixote inspired legs.
Hickman went on to explain that many of the experimental story structure ideas he employs are simply to alleviate boredom. He wants to challenge himself by moving around traditional story acts in order to elevate his interest and produce a more engaging story for the reader.
Hickman further described his Avengers work with Marvel. He said he has received some complaints about Infinity being too plot-heavy and lacking in character development. The reason, he says, is that he thought it would be clever if he withheld all the character stuff until the third act. So, the reader is getting plot in the first two acts, and then the holes are filled in with character scenes in the third act. Hickman described this as "a stupid way to tell a story." The funniest line uttered by a creator all weekend was this:
"I've got a billion dollar company basically letting me sandbox it on their biggest book… because I'm bored."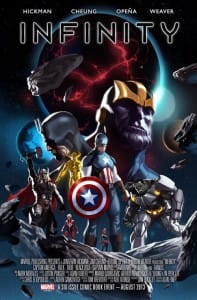 Hickman and Dragotta were very appreciate to the fans for supporting creator owned work. The success of East of West has been a life changing experience for them.
Hickman also discussed a long delayed project entitled Feel Better Now. His darkest work to date, it details the nefarious exploits of a group of psychiatrists who have a contest on who can screw up their patients the most without them committing suicide or having sex with them.
He's approximately 40 pages in, tackling both the writing and drawing duties. He intends to complete it as soon as the Marvel workload decreases.