Anyone that's been around anime for a given amount of time should be familiar with the OS-tans. For those that aren't, OS-tans are the cute, female personifications of computer software, from browsers, to operating systems (hence the name). While most developers and manufacturers accept them for what they are, they rarely give the phenomenon more than a passing glance. Microsoft, though, decided that it would be best to not only accept, but to embrace the idea of the OS-tan.
Beginning with Windows 7, Microsoft has begun crafting their own OS-tans for the Japanese market. They began with Windows 7, in a slick video that introduced the world to Madobe Nanami.
However, with the advent Internet Explorer 10, the company's gone above and beyond their previous efforts. At this year's Anime Festival Asia, the company introduced the world to Inori Aizawa, an embodiment of the company's flagship browser. She made the scene with a gorgeous video that sees the girl taking on a magical girl persona, as she lays waste to threats big and small. Microsoft has disallowed the embed of the video, but that hasn't stopped gif makers from doing their thing!
On top of this, the company's started a Facebook page for the character, that's absolutely riddled with self-deprecating humor. The most recent post as of press time is as follows:
Hey everyone! My name is Inori and you can think of me as a personification of Internet Explorer.

When I was younger, I used to be a clumsy, slow and awkward girl.

However, just like the story of ugly duckling, people told me that I have really matured and changed over the years. I feel confident in my abilities now, and I'm eager to show you what I can do.

Why don't you get to know me a little better?
The company will roll out a browser theme based on the character in the near future. For now, they're directing users to a preview page, so users can "get used to the experience."
Those that don't use Internet Explorer, though, will be greeted with an adorable crying Inori.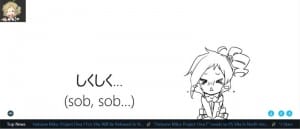 Is it crazy? Absolutely! But I have to admit, it's a nifty marketing idea for the company.