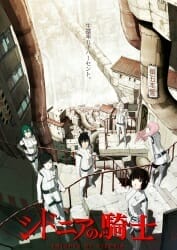 Earlier today, Netflix announced that they will stream the anime adaptation of Tsutomu Nihei's Knights of Sidonia. The series, which will run in summer 2014, will be made available in all Netflix territories in both dubbed and subtitled formats. Episodes will be added to the service "immediately following" their Japanese airings.
Today's announcement was one that caught many off guard. After all, Netflix has been making strides to be associated with risky, daring shows that wouldn't otherwise get a chance, like House of Cards, Orange Is The New Black, and Lillyhammer. They just don't do cartoons! They're above that! It's best left to the experts like Crunchyroll or Anime Network… right?
Not quite. If one looks at Netflix's actions, as well as their customer behaviors over the past couple of years, it's clear that Netflix's attempts with anime would come at some point.
At the moment, Netflix's streaming catalog hosts about fifty-one anime titles, mostly from FUNimation and Media Blasters. Their lineup includes blockbusters like Fullmetal Alchemist: Brotherhood, to cult hits like Welcome to the NHK. The library spans a number of genres, from action to drama, and the company seems to take strides to add content whenever possible. Outside of anime, Netflix hosts countless cartoons aimed at audiences young and old, with offerings like My Little Pony: Friendship Is Magic and The Rescuers joining titles like Adventure Time and Regular Show.
Netflix's typical audience resonates incredibly well with the animated content. Fifteen of Netflix's forty "Popular On Netflix" slots are currently consumed by animated programming. Of those fifteen shows, two are anime titles. Given that the Netflix content library spans thousands of films and TV shows, it's fairly impressive that Fullmetal Alchemist: Brotherhood and Samurai Champloo can compete with more mainstream fare like Dexter and Arrow.
In real terms, this means that anime can be a potentially positive venture for Netflix. The company, which enjoys over 40 million subscribers, offers fantastic opportunities for exposure to their original content. And, while not everything the company acquires is a hit, Knights of Sidonia does have the benefit of a sympathetic audience.
That said, Knights of Sidonia is a curious selection. The title is a relative unknown outside of anime circles, and has had absolutely zero hype in the core fanbase since its announcement in May. While the manga is generally well-received, the show will face a challenge in convincing the core as it gets closer to airing. At the same time, the release format runs entirely counter to Netflix's standard order, in which the company releases full seasons at a time to match viewer watching habits. In many ways, the show will be an experiment for Netflix, the results of which will be fascinating to see once the show begins airing next summer.
UPDATE: Netflix announced that they would release the series as an entire season, starting in summer 2014.