In Episode 4 of, we came together for a truly offbeat evening. The conversation was peppered with jokes and laughs, and the conversation really delved into some fun places. It was a fun session, where we all were able to kick back and just sling jokes and jabs for the fun of it.
Topics include Ben's One Piece: Romance Dawn (3DS) mini-review, Buried treasures (and buried trash) of the anime world, Rumiko Takahashi's new Rumic Theater work, and the Nekomonogatari Blu-Ray releases.
This evening's edition of Nerdy Talk features the following members:
Mike Ferreira
Matt Brown
Dorian Chadwick
Benjamin Fennell
At the moment, we're available via iTunes, Blubrry, and standard RSS.
Those who can't wait to dig in can view the podcast below.
Show Notes
Tonight's episode title comes from a Mike Tyson's Sybaris, a Something Awful article from 2010. On page 7, the image caption reads "This is the best room to be in if you like ghost mode." The article was a huge hit in our pre-show conversation, and we unanimously decided to make it tonight's episode title.
00:00:33: Potatokins is Ben's joke Twitter account. It's tweets from the viewpoint of a sociopathic potato with aspirations of global conquest.
00:01:25: Hero Tales is a 2007 anime series based on the manga by Huang Jin Zhou & Hiromu Arakawa. The series is a period piece that revolves around Taito, a young warrior destined to lead under the star of Hangun.
00:01:45: One of the characters looks a lot like Master Asia from Mobile Fighter G Gundam

00:01:58: Fortune Quest is a four-episode OVA, which focuses on six poor warriors that embark to collect hot spring water to repay their debts. The series was a parody of Dungeons & Dragons and mocked several of the game's tropes. The show received a TV sequel, Fortune Quest L.
00:02:44: Bleach spans 366 episodes. On two-episode VHS tapes, would span 183 cassettes. Assuming the series followed a 3/2/2/2/3 release format, 182 tapes.
00:02:58: One Piece, under the same format, would require 316 tapes. As of this podcast's recording date, there were 633 episodes
00:03:36: One Piece: Romance Dawn is a 3DS Action-RPG that covers the One Piece through the battle at Marineford arc. It's a port of a PSP game, which hit Japan in December 2012. –
00:05:37: "Tales'd" is an in-joke, referring to games that had their vocal openings replaced by instrumental pieces. The name stems from most of the "Tales of" games that hit the west, which had their pop music tracks replaced by symphonic melodies.
00:05:52: Wild ARMs 2 had a number of animated opening and ending segments, which changed depending on your progress in the game. This was done to make the show seem more like an anime TV series in game format, and included full vocal pieces. In the US release, the vocals were stripped from these songs and replaced by a loud, brassy trumpets and guitars. The songs became somewhat of a joke among RPG fans for how out-of-place the replaced music sounded on top of Michiko Naruke's melodies.
00:06:11: Mike misspoke here. Michiko Naruke did the music for the entire Wild ARMs series. Michiru Yamane is a composer best known for her contributions to the Castlevania and Suikoden franchises.
00:07:20: Spirit of Wonder was a pair of OVAs based on Kenji Tsuruta's manga of the same name. The OVAs adapted specific stories from the manga series. Both are out of print, and AnimEigo's release of OVA "Miss China's Ring" is considered prized a item among anime collectors.
00:07:38: The manga for Spirit of Wonder was indeed Dark Horse
00:09:12: Dr. Breckenridge looks like Hayao Miyazaki. See picture for proof.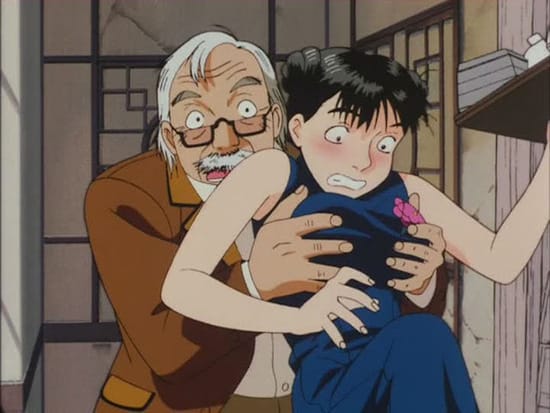 00:10:17: Kite was edited in its first several western releases. It did not receive an uncut release until 2004, when Kite – Special Edition Uncut hit stores. All releases of the title were published under Media Blasters's Hentai label, Kitty Media.
00:10:52: Mezzo is a 13-episode action series based on Yasuomi Umetsu's Mezzo Forte. The series revolves around a trio of agents in the Danger Service Agency (DSA), as they try to figure out why an assassin is one of their members.
00:11:35: Now and Then, Here and There is a 13-episode sci-fi drama. The series revolves around Shu, a boy soldier in a desert planet, as he is exposed to the sheer horrors of war. It's a series that is both horrifying and incredible all at once, and really deserves a watch!
00:13:37: Princess Nine is a sports drama series that revolves around Ryo Hayakawa, daughter of a legendary pitcher. She's drafted to a prestigious girl's school's baseball team, due to her unnatural talents. Her team aims to earn their rightful place in a field dominated by men, by capturing the high school league pennant at Koshien. The series will be re-released by Right Stuf on April 1, 2014.
00:15:44: Seraphim Call is a 12-episode TV series animated by Sunrise. The show is an anthology of individual stories that uses many avant-garde filmmaking techniques. Notable episodes include one shot with a fixed camera, and a two-parter that retells the same story from two perspectives.
00:17:07: Ayakashi: Samurai Horror Tales is an 11-episode TV series that animates three classic Japanese folk tales: Yotsuya Kaidan, Tenshu Monogatari, and Bakeneko. –
00:17:40: Argento Soma is a 26-episode sci-fi series that revolves around Takuto Kenshiro. Kenshiro, who is the sole survivor of a lab accident, is drafted into a secret military organization known as Funeral. In Funeral, he must help fight off an invading alien threat by controlling the very monster that destroyed his lab and his life in the accident.
00:19:00: Ikki Tousen is a fighting series that's gained equal parts fame and infamy for its fast-paced action and often-perverse levels of fan service. The series has received six sequels to date, with the most recent hitting in 2011.
00:19:46: Le Portrait de Petite Cossette is a three-episode OVA that stars Eiri, an antique shop worker that's drawn into a nightmarish world of horrific visions and gory bondage by a girl named Cossette.
00:20:45: Eat-Man is a 1997 sci-fi series that revolves around Bolt Crank: a wandering mercenary that can eat metal. the metal he consumes can be used to form weapons in his right hand. The series received a pseudo-sequel series, Eat-Man 98 in 1998.
00:23:00: Yuki Kajiura contributed to the soundtracks for the latter two Xenosaga games on PlayStation 2.
00:26:45: Murder Princess is a six-episode OVA from Bee Train, in which the spirits of a princess and infamous bounty huntress Falis are switched, leading to a Freaky Friday sort of situation. With princesses. And murder.
00:28:10: Avenger is a 13-episode anime series from Bee Train, set on Mars in the distant future. In the series, gladiator Layla embarks on a quest to defeat Mars's ruler, Volk. She's accompanied by Nei, a robot that looks like a young girl.
00:30:07: Ichi The Killer: Episode Zero is a 50-minute OVA that serves as a prequel to Takashi Miike's acclaimed film. The title focuses on Kakihara and Ichi, as their origins are exposed.
00:32:00: The Third: The Girl With The Blue Eye is a 2006 anime series based on a series of light novels of the same name by Ryo Hoshino. The series revolves around Honoka, a 17-year-old girl who travels through the wastelands of a devastated Earth and serves as a jack-of-all trades.
00:33:00: Origin: Spirits of the Past is a 2006 film animated by Gonzo. It revolves around a boy named Agito, who stumbles on a machine that's kept a girl named Toola in suspended animation for 300 years. Upon waking, Toola learns that earth's environment was greatly altered by genetic experiements, and takes it upon herself to right the wrongs of her people.
00:34:58: Mononoke is a 12-episode series that continues the "Bakeneko" story arc from Ayakashi: Samurai Horror Tales. The series is presented in a pseudo ukiyo-e art style.
00:36:25: We said all that needed to be said about Cat Soup. Yep. Bondage Mickey Mouse.
00:36:55: Crest of the Stars is a favorite of the Anime Herald Staff. It is a space opera that's based on a novel series of the same name, which focuses on Jinto Lin: a young human who becomes a count in the alien Abh empire. Jinto finds himself training with Abh princess Lafiel, and the two are quickly embroiled in a war between the Abh and humanity. Do yourself a favor and watch this. Please. I'm begging you!
00:37:20: Gokudo is a 26-episode action-comedy series based on the light novels of the same name. The series revolvesa round anti-hero Gokudo, who encounters a genie named Djin. After granting his three wishes, Djin stays with Gokudo to teach him a lesson about responsibility. Hilarity ensues.
00:38:45: Kirameki Project is a five-episode OVA that tries to mix giant robots, mecha, comedy, and perverted elements, with not-so-good results. That is all.
00:39:40: Neo Ranga is a shorter-form show that revolves around three sisters, who find themselves to be the unwitting priestesses of the old god Ranga. When Ranga arrives on the girl's doorsteps, he becomes an immediate publicity object, with some wanting to see him, others wanting to destroy or use him. The series revolves around the three sisters as they try to cope with their new celebrity and the dangers that the God brought upon their household.
00:40:07: Shingu: The Secret of Stellar Wars is a 26-episode series by Madhouse. It revolves around a small town of people, who are gifted with the ability of "Shingu", which allows them to combat malevolent alien forces.
00:42:33: Geneshaft was a 13-episode sci-fi series from Satelight. It's set in a universe where mankind was on the brink of destruction, only to be able to survive by eradicating emotions like love and power lust through genetic engineering. In this world, a giant ring orbits the Earth, relaying information to a malevolent alien race. It falls upon five particularly gifted women to destroy the ring, and beat back the alien forces.
00:44:36: Mobile Suit Gundam 0083: Stardust Memory was a 13-episode OVA set shortly after the One Year War. A rogue Zeon group has arisen, and stolen the latest Gundam prototype. Rookie pilot Kou Uraki must take control of the Gundam GP01 "Zephyranthes," and strike back to retrieve the stolen mobile suit.
00:44:53: Melody of Oblivion was a series by J.C. Staff and Gainax set in a world where monsters rule the world. In this world, a lad named Bokka is pulled into a war with the monsters. He joins several others who hope to rescue the Melody of Oblivion, a phantom girl that's been hidden away, to become the savior of humanity.
00:46:08: Honneamise was Bandai Visual's short-lived premium line. Much like Aniplex of America, the line was known for its stellar packaging and presentation, which came as painfully high prices.
00:47:50: News Item: Rumiko Takahashi Draws Rukic Theater One Shot
00:48:32:
00:48:35: Because we had to: I can't wait to bomb some dodongos!
00:50:19: Matt misspoke here. Gegege no Kitaro actually came out far earlier than Urusei Yatsura, and had an incredible impact both on the manga landscape and parts of Japanese pop culture it first released.
00:51:19: Fire Tripper was a 50-minute OVA based on Rumiko Takahashi's one-shot of the same name. In it, seventeen-year-old Suzuko is thrown 500 years into the past, where she's rescued from a horrific battlefield by a young warrior named Suzuko. Together, they must unravel the mystery of Suzuko (the modern girl), as time unravels around them.
00:53:36: Ichirou Nagai, who played numerous prominent anime roles, passed away on January 27, 2014. He was 82.
00:53:57:
00:58:14: Rumiko Takahashi Anthology is an animated compilation of thirteen short stories from the Rumic World series.
00:58:48: One Pound Gospel is a story in Rumiko Takahashi's Rumic World series. It revolves around pro boxer Kosaku Hatanaka, who has a habit of eating anything he sees. Sister Angela volunteers to help steer him from the path of the deadly sin of gluttony, and encourages him by ensuring that Kosaku exercises and refrains from eating too much. Unfortunately for the two, they begin to realize that they are gaining feelings for one another.
01:02:28: Dokkoida?! is a strange show, but it somehow works. Check it out!
01:04:42: Otaku Unite! is a 2004 documentary that explores the American anime fan subculture.
10:05:08: News Item: Blood Lad's Takuma Terashima Closes Twitter Account Over Harassment
01:04:48: See: John Gabriel's Greater Internet Fuckwad Theory in action
01:07:40: Phil Fish is the creator of the video game Fez. He has gained a reputation for his outspoken personality and incindiary attitutes toward certain game developers and detractors.
01:12:21: Item referenced in the podcast: New Kuroko's Basketball Threat: Chemicals in Snacks
01:14:05: Yep… that was forwarded to the police.
01:14:49: News Item Referenced: Aniplex to Release Nekomonogatari Black & White