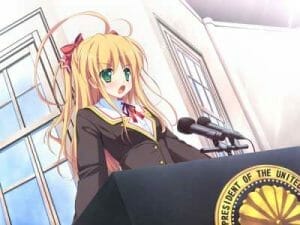 Good evening readers. Tonight, I'd like to welcome you to our annual State of the Herald address.
For those who don't know, this is my once-yearly soapbox, where I reflect upon the year as a whole and outline our plans for the coming twelve months. This was originally supposed to be a January feature to coincide with the State of the Union, but that clearly didn't happen. So, nowadays, it's whenever I feel the time is right, whether it's a period of downtime or what have you.
But I digress.
Over the past year, we've seen our content continue to change and evolve for the better. We've added a number of new features to the mix, including Your Bad Anime Night Needs, our celebration of all things awful, and The Shredder: our selection of informal reviews. This weekend, we'll be unveiling KickColle: a curated listing of anime Kickstarter drives, which will cover everything from CDs, to games, to projects like Kick Heart.
And then there's the podcast. Since February, I, and the rest of the Anime Herald Staff have hosted Nerdy Talk: a podcast about all things anime. While the staff rotates and changes regularly, there's never a dull moment, as we trade jokes, share stories, and discuss the latest goings-on in the industry. Everyone that's involved, from the hosts to the guests, have been simply fantastic, and I wouldn't trade the world for another crew. You guys rock. Plan and simple.
In addition to articles and netcasts, we've been beefing up our social presence, with more regular posting during the week, and a giant push to really engage everyone that reaches out to us. The Anime Herald accounts are no longer just monolithic entities. Instead, there's a face behind them, and a person monitoring (most of the time!).
We're really embracing our motto of "we'll talk nerdy to you." And, with each passing day, we've been making friends, and sharing the stories that really embody the anime industry as a whole. Our efforts to grow have continued to pay off. Over the past year, we've increased our readership by 40%, and increased our total visits by 35%.
We're continuing to grow and evolve with each passing day, and publications like Know Your Meme and Recruiter.com have begun to cite us as serious sources. I'd like to continue this growth in the coming year, as we polish and fine-tune our content to deliver the information you want, faster.
We've had another fantastic year here, but there is no time to really rest yet. The coming months will be huge for us, as we really push to improve and evolve our offerings.
And, like every year, I hope you continue to join us. I want to thank everyone reading, from our visitors, to our advertisers, to our incredible staff. Thank you for your support. Everything you do, whether you read our articles, or just follow and enjoy the quirky social media content, means the world to me. You're all incredible, and I'm thankful for all of your support you've given over the past four years. You are all awesome.