This week's episode was one of rants and raves. Mike gaves his review on Persona 4 The Golden Animation amidst what could only be called a venomous rant.
We're so getting crucified this week.
Anyway, other topics include the announcements at Anime News Network, Sailor Moon Crystal's fantastic launch numbers, and Hayao Miyazaki's invitation to join the Oscars academy.
This week's episode featured the following hosts:
Mike Ferreira
Matt Brown
Dorian Chadwick
The podcast is available for listening below:
Show Notes
Topic 1: What are we watching this season?
Topic 2: Mike rants about Persona 4 The Golden Animation
Topic 3: Anime Expo News Discussion
Topic 4: Sailor Moon Crystal Garners 1 Million Viewers In Two Days
Topic 5: Miyazaki & Suzuki Invited to Join the Oscars Academy
Related to Topic 5: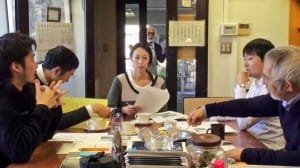 Subscribe to Nerdy Talk
Currently, we're available on iTunes, Blubrry, Stitcher Radio, and standard RSS.