Project Name: Semi Comic Book – Volume # 1 
End Date: 8/7/2014
Goal: $4,500
What Is It?
Semi is an Original English Manga series written by Nezumi and illustrated by Eudetenis.
The title is an supernatural action comedy that revolves around Kajitsu Kura, a girl who aspires to lead a powerful gang. To make her dream a reality, though, the girl needs to find members. her first target? A seemingly fearful lad named Minoru, who has truly incredible abilities.
To make matters more complicated, a handsome stranger arrives, claiming to be both a god and Kajitsu's father. God Dad wants his daughter to take up the family business, which involves protecting the human domain, and hunting those with the blood of monstrous beings known as Nakara. Will she be able to realize her dream and still protect humanity?
The KickStarter goal of $4,500 will cover printing, rewards, and most major fees associated with production. Notable donation tiers include the following:
$15: Thank you note in the first book, and digital copy of Semi Volume 1
$25: Thank you note in the first book, and digital copy of the Semi Volume 1, physical copy of Semi Volume 1, one print, one bookmark
$65 (Limited): Thank you note in the first book, and digital copy of the Semi Volume 1, physical copy of Semi Volume 1, one print, one bookmark, one charm, one card, one poster
$95: (Limited): Thank you note in the first book, and digital copy of the Semi Volume 1, physical copy of Semi Volume 1, two prints, two bookmarks, two charms, two cards, two posters
Why Profile This Title?
Semi is a title that combines strong storytelling with attractive artwork. The premise is inventive, and has plenty of room to grow, while the characters are well-developed and charming. The project's creators show a great deal of affection for the property, which shows through in each frame of every page.
The goals presented are realistic, and the staff is grounded in the realm of reality. There are no outlandish claims, and the general timetable of an April 2015 delivery is fair, as it gives leeway for the production process, and provides enough time for the project to be completed in full. Nezumi and Eudetenis built a small buffer for unforeseen circumstances, and they do seem genuinely interested in delivering the product on time and on budget.
Intro Video
Creator Interview
For this interview, we spoke with Nezumi over Skype on July 19, 2014. We want to thank her for sitting with us to discuss the project!
Note: Interview edited for clarity
Anime Herald: First off, I'd like to say thanks for sitting with us. It's great to meet you.
Nezumi: Same!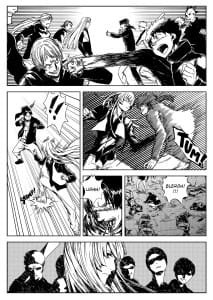 Anime Herald: For those who haven't heard of Semi, can you tell us a bit about the series?
Nezumi: Well, it's based on a little girl, who decides that she wants to be a gang leader. And it starts out, where, you know, that seems like that's the only little focus. But, very quickly, we find out there's a whole lot of supernatural things going on. Her estranged father shows up, and he claims to be a god, said he wants her to work for him.
And, from there on, everything just gets kind of complex, crazy, and, you know, fun! (laughs)
Anime Herald: Absolutely! And you chose a very interesting art style for this project. It's very clearly inspired by manga titles, but it has its own unique spin. What led you to go with this direction?
Nezumi: Well, honestly? My first idea for this was actually a more American-styled comic. And then I went from there, and, then, you know, I've always been, like, a huge manga fan since I was a child. So I ended up going from there, and then changing my plans, and I started looking for an anime-type artist.
And I was having a really hard time with that because, you know, there's a lot of people who can draw very very well. But when it comes to putting together pages? It's not so easy. (laughs) And I ended up on my artist by chance. I can't remember exactly how, but I was surfing DeviantArt, and I came on to one of her pages. And I pretty much fell in love with her art style! So I think it really was chance that I found her in the first place!
Anime Herald: Turned out very well, actually.
Nezumi: Yeah! A lot of people seem to really like her art style. I know I do! I'm actually happy I went with that rather than going with my very first choice! (laughs)
Anime Herald: Definitely. And why did you decide to take this to a crowdfunding platform, and why KickStarter in particular?
Nezumi: Well, Kickstarter is really, really well known. We keep hearing projects that are coming from KickStarter and they're just getting funded, over-funded. It's a very popular platform to use. There's a lot of other crowd funding sites, but when you compare them all, that's the one that's at the top. So I went towards that one, rather than the other ones. And I decided to do crowd funding because it's very expensive to print a book.
And there actually aren't grants given anymore, either, like there was in the past. So this was really the only option to get it printed. It has to be through KickStarter.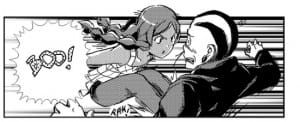 Anime Herald: It looks like you have a $4,500 goal for this. What would you the breakdown is that would go to the project itself?
Nezumi: A little over 3,500 goes into the print. I found an overseas printer in China. It was a very good price. The only thing was you have to print at least 1,000 copies. But in the end, it was still a better choice than printing here in America. The price here was just crazy for a lesser amount.
So I went with that, and I got a quote of around $3,500. But then I had to factor in the taxes that KickStarter and Amazon take, which is about 10%. And then I had to factor in the rewards and the shipping. So that's how I got to the $4,500.
About $3,500 goes toward the books, around $500 or so goes toward the rewards and the shipping, and the last $500 was the taxes. I didn't want to have a surprise. You know, it gets funded and I'm happy, and then I see that I don't have enough money to ship out to the backers. Because that would just be horrible.
Anime Herald: Absolutely. And at this point, it looks like you're just about halfway there. If you manage to make that $4,500 point, are you guys planning any stretch goals?
Nezumi: Yes. I have quite a few planned up! I was waiting to announce them until 75%. But I have extra prints for the first stretch goal, extra prints, extra posters… After that I was planning some bookmarks and a calendar. I really hope we can get to the calendar! (laughs)
I was planning a calendar, hardcover version of the books, body pillows, and lastly, if it just happened to really soar out of control, a copy of volume 2.
Anime Herald: And what has the experience been, interacting and working directly with your backers on this?
Nezumi: Well, I'm really, really enjoying speaking with my backers! (laughs) Especially the ones like 10Gage and Tok. There's been about four of them so far, and they're really, really, really great and offer a whole lot of support! So it's really nice to meet new people! So that hs probably been the best part about it. And seeing people who actually don't even know me, but they're actually willing to put money down on a project that I put my all into, it makes me feel pretty good!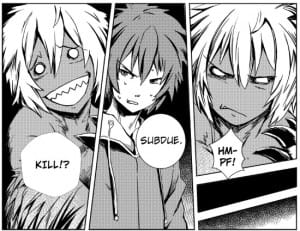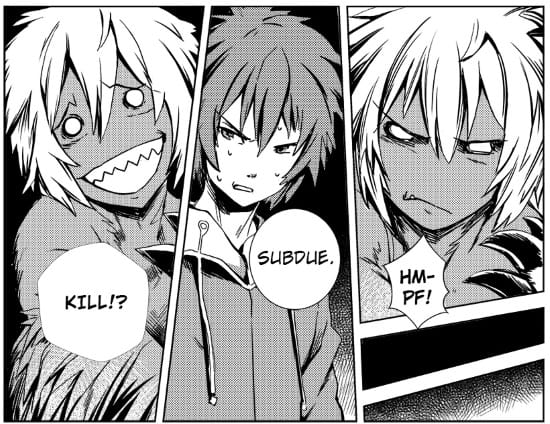 Anime Herald: Are there any KickStarters that you have particular interest in? Anything that you're currently following at the moment as well?
Nezumi: Yes! I am following a manga, it's called Altar Girl. The creator is really, really, really sweet and I really liked her stuff. So I was following that.
There was one that's already ended, and it's very successful. It was for a game, I think it was OMORI? I don't know if you've heard of it, but it was a very old-school looking game that was obviously inspired by EarthBound. I'm not sure if you heard of that either, but I absolutely loved the look of it, and I had to back. And I was very happy when that one succeeded. I can't wait to get my copy!
Anime Herald: One final question: Is there anything that you'd like to say to our readers? Anything you'd like to say about the project in general?
Nezumi: Well, I have to say that it's going to be a very, very long series, and that there's going to be a whole lot of interesting things happening. And I'm just sure that, if they take a look at it and they're into manga and anime, and things like that, they're totally going to enjoy it.