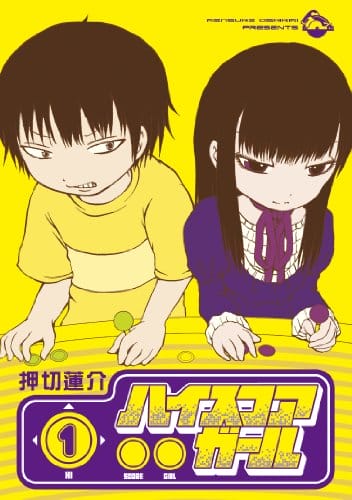 The last couple of days have been pretty interesting for Square Enix.
Earlier today, Anime News Network reported that the Osaka police department's Consumer and Economic Crime Division searched Square Enix's headquarters, as well as locations linked to the publisher.
According to the police, Rensuke Oshikiri's Hi Score Girl manga allegedly contains over 100 instances of unauthorized uses of characters from various SNK-Playmore properties. The named titles include The King of Fighters and Samurai Spirits, though other properties were included in the investigation.
To make matters more interesting, the end notes of compiled volumes contain a copyright notice that includes SNK, complete with the © mark, which implies that some form of consent was granted for the characters' usage in the title. SNK themselves didn't find out about this, though, until last summer. It was during this period that a Tokyo-based production company approached SNK for permission to use their properties in an anime adaptation of the title.
SNK filed a formal report in May which, according to Article 119, Section 1 of the Copyright Law of Japan, requires the company to press criminal charges. According to SNK, the company repeatedly requested that Square Enix stop publishing the title, both in collected volumes and in print, though Square Enix never gave a sincere response to the matter.
Earlier today, Square Enix announced that they will voluntarily recall all volumes of Hi Score Girl and halting publication until further notice. They will, however, continue to publish the title in Monthly Big Gangan magazine, and all plans to adapt the series to anime are still a go.
To make a long story short? Square Enix is in pretty hot water at the moment. Willful, repeated copyright infringement carries incredible consequences. Let's take a look at the actual clause stated by SNK Playmore in this case: Article 119, Section 1 (courtesy of WikiSource):
Article 119
A person who infringes on the copyright, right of publication or neighboring rights (excluding, however, (a) a person who reproduces by himself a work or performance, etc. for private use purposes as provided for in Article 30, paragraph (1) (including cases where applied mutatis mutandis pursuant to provisions of Article 102, paragraph (1)); (b) a person who, pursuant to the provisions of Article 113, paragraph (3), commits an act deemed to constitute an act of infringement on the copyright or neighboring rights (including rights deemed to constitute neighboring rights pursuant to the provisions of Article 113, paragraph (4); the same shall apply in Article 120-2, item (iii)); (c) a person who commits an act deemed to constitute an act of infringement on a copyright or neighboring rights pursuant to the provisions of Article 113, paragraph (5); (d) or a person described in items (iii) or (iv) of the following paragraph) shall be punishable by imprisonment with work for a term not more than ten years or by a fine of not more than ten million Yen, or by both.
In the most plain of English, this translates to the following:
Outside of private use and fair use, those who willfully infringe on the copyright of another party will be punished, to the tune of up to ten years in prison, ten million yen in damages, or a combination of the two.
Given that this is indeed a criminal case, this means that Square Enix cannot settle out of court. This has officially gone to the point where the matter will go to trial. Typically, the equivalent to a settlement in these cases would be a plea bargain where, in exchange for an admission of guilt, the defendant receives a concession from the party pressing charges.
In Japan, though? This doesn't exist. By law, plea bargains are forbidden.
This means that, in the current framework, Square Enix may have to defend against the at least 100 instances of copyright infringement with SNK Playmore. Granted, this is the extreme case. We don't know how the case will proceed yet. We don't know whether SNK will pursue this as one charge, or if they will go for the max penalty with 100+ charges.
Depending on the length of the proceedings, and the findings at trial, the company could face a hefty cash penalty in addition to the forced stoppage of High Score Girl.
In short, this is bad news for Square Enix.
In addition to the possible cash penalties for these alleged infringements, Square Enix could undoubtedly spend several years and millions of yen defending itself in court. And, even if they win the case, they'll still end up a loser, as profits for High Score Girl will be stunted, and money that could be used to pay for new content will be funneled into the legal system via lawyers and court fees.
There are a lot of "what ifs" in this case so far, so I'm not going to point fingers or cast my lot on who is in the right. I will say, though, that the irony in the situation is just delicious. Square Enix has, historically, been one of the most vigilant defenders of its copyrights. Seriously, they're a group that's gained a reputation as being willing to shut down fan tributes, and take down projects to which they gave tacit approval. So, to see Square Enix facing such allegations as mass copyright infringement carries a tinge of fairly dark humor.
This case will certainly have ramifications for Square Enix as a company. Whether they win or lose, it will certainly change how they approach new projects going forward, in addition to their current catalogue. Exactly how things will change, have yet to be seen. Still, one can only wonder how far and how quickly things will be shaken up in light of the suit.
Update, 8/11/2014: Monthly Big Gangan's editor announced that they will temporarily cease publication of Hi Score Girl in light of the copyright allegations.
Update, 10/8/2014: Square-Enix is filing suit against SNK Playmore in response to the Hi Score Girl case. Square states that the company is willing to reveal, in the field of civil litigation, that the copyright claims by SNK are invalid. However, they will continue to act in good faith by cooperating with police in the current investigation.