All Aboard The License Train! This was another banner week for anime companies, who showcased a handful of new licenses. Sentai added Reideen and Queen's Blade: Beautiful Warriors, while FUNimation acquired the Black Butler: Book of Murder OVA.
Streaming fans shouldn't feel left out, though! Crunchyroll revealed that they will stream Hanamonogatari.
Attack on Titan's coming to an end… eventually. Editor Shintarō Kawakubo revealed in an interview with the University of Tokyo Newspaper that the title's serialization is scheduled to end in three to four years. However, that doesn't mean the series will just fade away. He believes that "Attack on Titan is a work that will be passed down from generation to generation for a decade — no, five decades."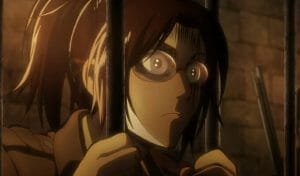 On the note of Attack on Titan, have you heard about the big Labor Day marathon? Celebrate the United States's labor movement with human strife with Toonami on August 30th. The network will air back-to-back episodes of the show after a brand new episode of Space Dandy. Spiffy!
If that's not enough for you, be sure to check our podcast, where we interview Jessica Calvello, who plays Hange in the show's English dub.
Have you heard of Under the Dog? If not, then you should! The KickStarter drive seeks $580,000 to produce a sci-fi action thriller. This won't be some amateur production, though. The title has some major talent behind it, including Masahiro Ando (Sword of the Stranger, Canaan) and Jiro Ishii (999, 428: In a Blockaded Shibuya).
Did someone say Bebop? FUNimation sure did, when they revealed the first of their two premium editions. The Amazon-exclusive will include not one, but two art books, encased in a lovely clamshell art box. Those looking to take the plunge can grab the deal for $29.99 off the sticker price right now at Amazon.
Goodbye to a legend. The world said goodbye to a legend on August 12, when Robin Williams passed away due to suicide. Williams was a wonderful comedian, a major Zelda fan (he named his daughter after Nintendo's Legend of Zelda video games), and a big fan of anime. His loss was felt across the world, though is legacy will live on. Thanks for so many amazing experiences, Mr. Williams.
Williams was apparently battling depression at the time of his passing. If you know somebody dealing with depression, please see that they get the help and support they need.
On a lighter note… Free! and The Village People are just a fantastic match. Wouldn't you agree?
Featured Title: Cat's Eye The classic series about a trio of gorgeous cat burglars is sure to steal anybody's heart! It's a dash of Lupin, a bit of rom-com, and just plain fun to watch. Check our review here, and get your own copy at Right Stuf!
How can you say "no" to a cheeky grin like that?