Batten the hatches and bar the doors, it's time for another volume of AniWeekly!
It's about romance, but for grown ups! Lauren Orsini at Otaku Journalist published an article detailing her experiences with romantic anime aimed at the over-18 set. It's personal, touching, and just a great read.
Happy Birthday, Hatsune Miku! This week, the virtual idol celebrated her seventh birthday. As you can expect, fans are showing their affection in the most amazing ways possible.
You got your Pokémon in my Tekken! Last week, Nintendo and Namco announced Pokkén Tournament, a 3D fighting game starring Nintendo's famous battle monsters. The title is being developed by members of the Tekken team, and will be co-headed by Tekken producer Katsuhiro Harada.
As of press time, the game is an arcade exclusive (though we won't be surprised to see it hit Nintendo's WiiU before too long!)
Hatsune Miku partners with Hachioji-P. Japan's top virtual idol will star in Carry Me Off, an addictive electronica track with a thumping bass line and a gorgeous composition. The track will be included in Twinkle World, a 14-track album that features the entire collection of Vocaloids.
Haruhi's coming back… kind of! The latest issue of Kadokawa's Young Ace magazine announced that the anime adaptation of The Disappearance of Nagato Yuki-chan will begin airing next year. The announcement comes almost a year after the show's official reveal via a viral campaign on the SOS-dan website.
A sad day for anime fans, Anime director Sunao Katabuchi revealed (via Twitter) that director Toshio Hirata passed away on August 25. He was 76.
Hirata was a truly gifted director, who helmed classics like Barefoot Gen and Pet Shop of Horrors. We'd like to offer his family and friends our deepest condolences.
The world's most famous feline suddenly… isn't? It's true. According to Sanrio, Hello Kitty isn't really a cat!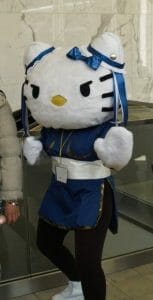 A heartwarming social media session. Earlier this week, the mother of a recent anime fan went to /r/anime for advice on shows they could watch together. And, barring the usual jerks that pop into this sort of topics, everything went better than expected!
Hideaki Anno: Eva creator, brilliant director, the next Miyazaki? Maybe! Studio Ghibli co-founder Toshio Suzuki pointed to the director as the next thought leader in anime. Suzuki was quoted as saying that "only people with talent can create. I would like him to cherish the god-given talent and keep producing." 
That doesn't mean Anno will suddenly jump over to Ghibli, mind you! The Evangelion creator is hard at work at Khara, at the moment.