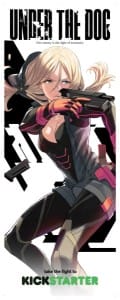 Earlier Today, Under the Dog became the Little Anime That Could.
After a nail-biter of a KickStarter drive, the ambitious project blew past its $580,000 funding goal. And, with just over three days as of press time the total continues to grow. The feature already surpassed $600,000 in funding, and continues to grow as the drive enters its final 60 hours of operation.
For the uninitiated, Under the Dog is a 24-minute OVA based on a story by Jiro Ishii (Canaan, 999: Nine Hours, Nine Persons, Nine Doors). The title will be directed by Masahiro Ando (Sword of the Stranger, Canaan), and feature a script by Makoto Fukami (Psycho-Pass). Character designs will be done by Yusuke Kozaki (No More Heroes, Fire Emblem: Awakening), and animation will be handled by Kinema Citrus, with CGI by Orange.
Basically, there's a lot of talent behind this feature.
The feature itself will be a sci-fi thriller set in the year 2025. In the OVA, The Tokyo Bayside District is a gleaming monument that stands in the grisly aftermath of a terrorist attack. At the 2020 Olympics, the area was leveled by a gang of enhanced terrorists. In the days that followed the incident, the UN formed a special covert branch that would hunt down the cell that turned a time of merriment and competition into a bloodbath.
As a cover, the new branch established the International School for Boys and Girls: an institution that would seek out and train especially gifted high school students to nurture their abilities. Ultimately, these youths would be placed into an élite death squad tasked with hunting those with powers similar to their own.
As one would expect, failure is not an option. Compliance is ensured at the point of a gun. Agents and their loved ones are fitted with cranial bombs that are set to detonate in the case of a botched mission.
So, basically, it's kind of sort of like X-Men. Only it's not.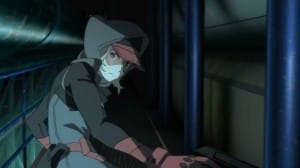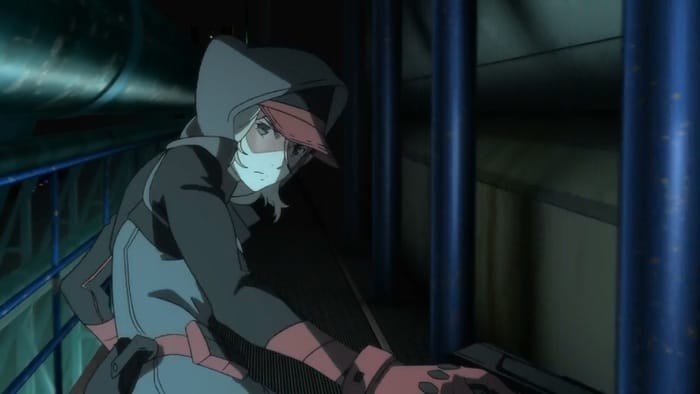 When we covered Under the Dog, it was facing a number of challenges. Funding was below expectations, and the popular trackers were estimating the project would miss its goal by about $100,000. The backers, while optimistic, expressed a certain sense of worry, an admission that there was a good chance that the entire run could end poorly.
This was echoed somewhat in our interview with producer Hiroaki Yura, who stated the following:
I think I made the mistake of setting the goal too high. But the fact remains, that the cost for this project does cost what we put out on KickStarter. So I'm really befuddled as to what to do in terms of how to present this in the future.
The group's goals were admirable, though. They wanted the very thing that so many anime producers desire in today's world of production companies. They wanted to be free.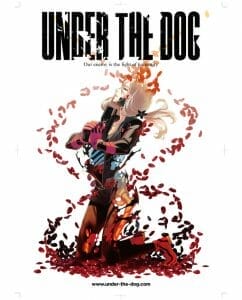 They wanted to free themselves of the shackles of politics and compromise, product placement and commercialism to tell their own story. They wanted to produce a feature that wasn't aimed at the "waifu" crowd or the hardcore otaku. Rather, they wanted to show the world what their vision was, on their own terms.
This passion could be heard in every one of Yura-san's words, as we chatted over Skype. His desire to see this become something bigger, something special was simply infectious.
The project needed a spark, though. It needed something to carry that passion, that weight to the anime fan community on a truly grand scale.
That special something finally landed on September 2, and bore the name of Hideo Kojima. The stored game creator, who gave the world Solid Snake and Metal Gear, and whose talents are currently focused on Silent Hills, endorsed Under the Dog. His words were riveting, and seemed to echo that very passion that I had heard from Yura-san. He captured the gravity of the situation, the very implication of what success could mean in the anime world, and channeled it in a way that could reach even those outside of the common anime circles.
In particular, though, one bit of Kojima's announcement seemed to stand out among the rest:
One cannot help but pay close attention to this project. One cannot help but cheer on this project. In particular, how can this creator who garners cult-like popularity catalyze a new chemical reaction [in the industry] by putting an emphasis on "creating," which stands apart from the typical commercial oriented projects? One cannot help but look forward to this succeeding.
It was this day that led to the turn-around, as the story was picked up on every major news source, from Anime News Network, to IGN. People buzzed with curiosity, and rushed to see a project endorsed by a man that helped to redefine video gaming in a lot of ways.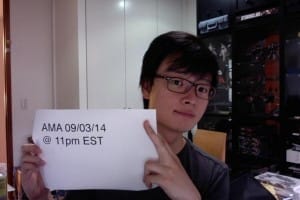 The next day, Yura-san took to Reddit in an AMA. He fielded questions from dozens of readers. And, while topics ranged from the common questions about Yura-san's work and his preferences for certain media, many weren't expecting the level of frankness and honesty that was shown in his responses.
For example, Redditor SalubriousStreets asked the question "How do Japanese anime studios view western audiences and fans?", to which Yura replied "They don't… and it's reflected on the works. Very unfortunate."
He was brutally honest at times, explaining the difficulties of working with production committees, and the compromises that are often forced on a project. Yura's answers were the furthest thing from the typical stock responses, and people loved it. They could relate to his frustrationa and concerns, as Yura shed light on a process that was generally a black box to so many anime fans.
We've provided one such exchange as an example:
percussionfreak9D2: …Does using KickStarter help you bypass any type of rules or regulations that you would normally have to go through? I noticed the preview you put out was pretty graphic (and awesome by the way), so I was curious if going this route has helped eliminate some of the red tape you'd normally encounter?"

Yura: It certainly does. Production committees have very specific guidelines when it comes to tropes, content, etc. and we would be forced into obliging them. We do not want to do that and we hope to change the future of funding for anime.

There is plenty of anime I don't get hyped about. Just yesterday, a friend of mine told me why a particular anime was popular. "Because the Production Committee spends millions in advertisement to make it seem popular". Then some of the JP Otaku's follow like sheeps…

Whatever that tries to create additional revenue for Japanese creators is welcome. However I still feel that the prime evil are the Production Committee.
Basically, Yura-san treated everyone, whether it was an interviewer, or a fan, like a mature adult. He didn't sugar-coat information, didn't try to paint a rosier picture of the anime world, and certainly didn't back down from saying what he felt needed to be said.
It seems that this combination of Kojima's words, Yura's AMA, and the sheer passion of the backer community brought fresh eyes to Under the Dog. Pledges began to pile up en masse, with over $160,000 hitting today alone.
Even better, both Netflix and Crunchyroll have stepped up to the negotiating table, with hopes to distribute the title on their network.
In short, it was nothing short of a miracle that visited the Under the Dog crew this week.
Even now, as the donations continue to pour in and the clock ticks steadily down toward its end, the internet is buzzing with hope and optimism. Under The Dog, a project that was (for lack of a better term) a true underdog, is actually going to happen. This project of passion, born from a desire to create something unique and despoiled of politics and wheedling from corporate benefactors, will actually see the light of day.
On top of this, though, backers have invested in hope. They've invested in the sheer possibility that anime can still be produced by a group of talented people with a great idea and a desire to excel.
Hopefully, Under the Dog will be the catalyst the industry needs to finally start breaking free of the ruts and the meddling that will inevitably fail fans and creators alike in the long-term.