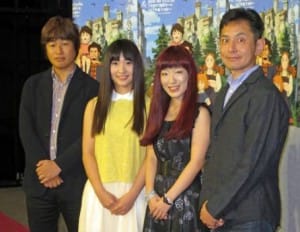 Since his début, many have argued that Goro Miyazaki could never match the brilliance of his father. Hayao Miyazaki is a living legend, who gave birth to countless unforgettable characters, and worlds that grow and flourish outside of the camera's lens.
Goro Miyazaki, on the other hand, was someone with a different dream. He aspired to be a landscape architect, and pursued the trade with great passion. He helped to design the Ghibli museum, and even served as its director from 2001 to 2005.
It's hardly what most people would call directorial material. And, if one listens to the fan community, he certainly doesn't have the sheer imagination and skill to take the reins from his father.
And, to be honest, Goro Miyazaki agrees.
At an event in Tokyo's Shibuya district that was to promote the upcoming Sanzoku no Musume Ronja, Miyazaki was asked whether he would ultimately become the successor to his father's legacy. He replied with "I can't, and don't, think of myself as a writer. I can't be a post-Hayao Miyazaki [sic], there's no way I can. … I can do work if I'm given a theme and if I have the right circumstances. I can't be like him and have my own studio and make things from original works, from my own ideas."
To see such humility from Miyazaki is refreshing, to say the least.
Hayao Miyazaki, while a brilliant creator, was an outspoken critic of, well, just about everything in the anime industry. He's quick to post blame for the various ills in the anime industry, and he's gone as far as to argue that the overall population consists of otaku who "can't stand looking at other humans." He's likened iPad users to masturbators, and stated that cutesy anime voices are "unbearable."
He's outspoken in the realms of politics, and famously refused to attend the Oscars in the year Spirited Away took Best Animated Feature because he " didn't want to visit a country that was bombing Iraq." At the same time, he's called for rejections to controversial reactionary policy in Japan, and is an ardent pacifist and environmentalist.
He's a complicated man, with a lot of views, and he's not afraid to express every last one of them.
Goro, on the other hand, is a far more reserved, humble person overall. He's willing to admit his limitations, and certainly admits that he won't be able to create miracles like his father. He knows where he's most comfortable in the studio, and gladly notes that he works best as strictly a director. The younger Miyazaki shies away from the controversial statements of his father, and shows a strong preference for keeping away from the spotlight when possible.
And that's okay.
At this point, everybody is looking for that magic bullet. They're looking for the one person who will carry Miyazaki's torch, and save Studio Ghibli from the challenges the studio currently faces.
And, unfortunately for Goro, he does bear the name and reputation of his father, if not by choice then by birth. He began his anime career in his father's shadow, and has always been expected to be that renaissance man that could write, direct, and produce a film from scratch. With projects like Up on Poppy Hill and the upcoming Sanzoku no Musume Ronja, we're finally seeing the director get a chance to carve his own path, and build his own reputation.
It certainly won't be what the world was hoping for when Earthsea was beginning production. Rather, it'll be an extension of who he is as a director, and what talents he can bring to the table. And, in time, we'll recognize Miyazaki for his own accomplishments and achievements, both his good and bad coming together to create the portrait of a rich career.