Under the Dog, but not an underdog in the least! Under the Dog just finished its 30-day funding drive. While the chips were down a week ago and success seemed shaky a week ago, the project rebounded to amazing success. At closing bell, the total take was $878,028. Congrats, guys!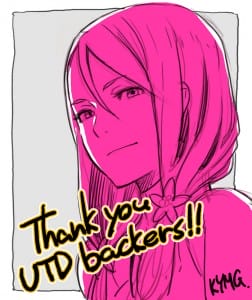 Welcome back, L.B. Bryant! After a few, well… years of bouncing around sites like Japanator and Ani.me, L.B. Bryant has brought back Otaku Review. So, welcome back to the independent life, and best of luck!
Be the otaku, become the journalist. Lauren Orsini at Otaku Journalist published a post on how to really get noticed in the writing world. It's a good read, and the tips definitely have real-world application, given that she just signed on to Anime News Network as a reviewer (congrats!).
Happy birthday, Doraemon! September 3 was Doraemon's official birthday, which means time for parties! The folks at Viz Media posted a short video of a "birthday party" for the historic character. Bubbly techno music and dorayaki were had by everyone, and all was right with the world for a minute.
In the name of the moon…! The first 23 English-dubbed episodes are now available on Neon Alley and Hulu. After what seemed like months of agonizing and teasers, we can finally say that the dub is simply wonderful What are you waiting for? Check it out!
Okay, fine. We've embedded the first episode below for you to kick off your binge-watching.
Speaking of which… Crystal is looking mighty fine right now. The first Japanese Blu-Ray set for Sailor Moon Crystal was revealed last week, and it is glorious. It's bundled with a charm bracelet, a booklet, a hardcover storyboard book, and a music box that plays opening theme "Moon Pride".
Persona! Fans looking forward to more information on Persona 5 may have to wait a bit longer, but the teasers are finally starting to surface. The first trailer was revealed last week prior to Tokyo Game Show. And, in typical Persona fashion, it's as gorgeous as it is intriguing! The title will hit both Sony's PlayStation 3 and PlayStation 4 consoles next year.
Who's ready for some sexy cyberpunk action? While the Ghost in the Shell: Arise features are wrapping up with part 4, the series's official website revealed that a movie is in the works. While no release date was specified, the film is slated to hit sometime in 2015.
Fly me to the Moon… Nintendo hosted their latest in their Nintendo Direct last week. Rather than their usual surprise-fests, though, the focus this time was strictly on Bayonetta 2. Title director Yusuke Hashimoto and producer Akiko Kuroda spent a half hour showing off the game's nuts and bolts, from the core gameplay to the online Tag Climax mode.
Platinum Games's sexy heroine struts into action on October 24, the same week that anime film Bayonetta: Bloody Fate hits retailers.