Welcome to the USA, Pony Canyon! Pony Canyon opened a North American branch last week. The new division, named Pony Can USA, already has two simulcasts slated for this fall, and plans for DVD & Blu-Ray releases. There's already been some commentary on the matter, whether it's from Otaku Review, or even our own editorial team.
A new studio, with new opportunities. Production I.G./Xebec/Wit Studio parent IG Port announced that they're starting a new studio. The studio, which will be named Signal MD, will open its doors in October, and will be helmed by Katsuji Morishita (Blood-C, Oblivion Island: Haruka and the Magic Mirror). Signal MD will have a 30 million yen budget and will be tasked with developing tech for full digital animation, while creating the foundation for family centric shows.
"Objective" anime criticism is overrated. Serdar from Ganriki presents an interesting discussion on what goes into a great, trustworthy anime review. The notion of "fake" objectivity is a bit overrated, for sure, and Serdar does a wonderful job of explaining how it can even hurt a critique of a given series.
Princess Kaguya graces the west with her presence. The official English dub trailer for Studio Ghibli's The Tale of the Princess Kaguya. Isao Takahata's film will hit North American shores on October 17, and will feature a star-studded cast that includes Chloë Grace Moretz, James Caan, Lucy Liu, and Dean Cain.
A truly unusual origin. At an event celebrating the DVD and Blu-Ray release of The Wind Rises, Ghibli co-founder Toshio Suzuki discussed the circumstances that led to the creation of Laputa ( Castle in the Sky). It's a fascinating tale, involving burn-out, a bad loan, and a series of unfortunate events.
To make thing short, the moral of the story, is "get into debt, and come up with your next idea."
More Psycho-Pass? Yes, please! At the recent Psycho-Fes fan event, staffers from the Psycho-Pass TV series announced that a film is in production. The current buzz indicates that Makoto Fukami and Gen Urobuchi might return as writers.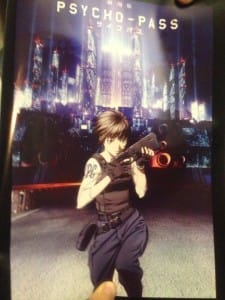 Don't lose your way! Aniplex of America announced that the Kill la Kill OVA will be screened at New York Comic Con. In addition, the company revealed that Ragyo Kiryuin will be voiced by Laura Post, Nui Harime will be voiced by Stephanie Sheh and Tsumugu Kinagase will be voiced by Kaiji Tang in the show's English dub.
Make way for Ebola-chan! 4chan meme character Ebola-chan, a personification of the Ebola virus, has made its way to the mainstream press. The character's appeared in papers around the world, from the Washington Post, to the International Business Times.
Given the nature of 4chan, is anybody really surprised? No? Good.
Meanwhile, in a big (free) Helvetian newspaper: THANK YOU, EBOLA-CHAN! pic.twitter.com/wmOiMqU3RI

— スイス桃@6月 (@AKScans) September 23, 2014
The wings of freedom will fly… for three more years. In a recent interview, Attack on Titan creator Hajime Isayama revealed that he plans to wrap things up within three years. He's shooting for a total of 20 volumes, when all is said and done.
The OMOCAT is loose! Lauren from Otaku Journalist published an interview with LA-based fashion designer OMOCAT, whose designs have gained an international appeal. It's a fascinating article, to say the least!
Ziplining is serious business. We're going to close things off with a more humorous take on things, with this mash-up of South Park and Attack on Titan. It's silly, it's irreverent, and it's just a lot of fun.