Project Name: URBANCE
End Date: 11/6/2014
Goal: $189,000 (CAD)
What Is It?
URBANCE is an original animated feature by Canadian studio Steambot. The title will be directed by Joel Dos Reis Viegas, and feature work by Hiroshi Shimizu (Space Dandy, Lupin III: The Woman Called Fujiko Mine). Musical group PLAID (Tekkonkinkreet) is slated provide the soundtrack.
URBANCE is a sci-fi action title set in a dystopian city. In this world, street violence is the norm, and sex is banned due to a deadly genetic virus that's ravaged the population. The only cure is still in development, and its results are grim.
As a result, humanity has grown apart. Men and women have grown to hate one another, and the future seems to grow dimmer by the day.
It's in this world that Kenzell and Lesya find themselves. Disowned by their gangs, forced to live each day as if it's their last, they have nobody to turn to but each other. Together, they are tasked with choosing between their love or their future. And together, they serve as the spark for a revolution against the authorities, the government, and even their own flesh and blood.
It's a difficult road to travel, but these two rebels stand as the very force that can change the world.
The KickStarter goal of $189,000 Canadian will cover KickStarter-related costs, as well as the production costs of a 26-minute pilot that will be pitched to TransMedia developments. The end goal will be to produce a full animated series.
Notable Reward Tiers
Note: All tiers listed in Canadian dollars)
$30: Desktop Wallpaper, Facebook cover, Backer's name listed as a supporter on the URBANCE website, Digital Download of the Pilot
$45: Digital Artbook, Digital Soundtrack, plus all lower-level rewards
$85: Stickers, DVD/Blu-ray Copy of URBANCE, plus all lower-level rewards
$100: Artbook: Genesis of URBANCE, plus all lower-level rewards
$150: Placement of name, company, or Twitter account in the pilot, plus all lower-level rewards (excludes $150 tier)
$200: Signed & Numbered URBANCE print by 123Klan, plus all lower-level rewards
$250: URBANCE doujinshi signed by Hiroshi Shimizu and Joel Dos Reis Viegas, plus all lower-level rewards
$500: Keyframe drawing signed by Hiroshi Shimizu, Special Thanks mention in credits, plus all lower-level rewards
$1,000: Original drawing signed by Joel Dos Reis Viegas, plus all lower-level rewards
$5,000: Addition as a character in the series, plus all lower-level rewards
$8,000: Meet the crew at their Montreal Studio, Backstage tour of Steambot Studios, private preview of the pilot, plus all lower-level rewards
Why Profile This Project?
As a film, URBANCE is an interesting attempt to fuse the design philosophies of the east and west. The graffiti art aesthetic and emphasis oon hip hop draw parallels to properties like Jet Set Radio, and include various visible nods to prominent features like Interstella 5555 and Tekkonkinkreet.
The project's garnered high praise from indstry members around the globe, including Eddie Mehong (One Piece, Macross Frontier), Thomas Romain (Space Dandy), and Robert Valley (X-Men Evolution, Aeon Flux). Studio Ghibli's Hiroshi Shimizu is quoted as follows:
The character designs and the colors of Urbance are incredible. There is a charm that I don't have in my designs and I would love to develop.
Steambot Studios, in itself, boasts an impressive resume, with work on projects like X-Men: Days of Future Past, Batman: Arkham Origins, and Tron Legacy that stand as a testament to the group's talent. The inclusion of Shimizu, as well as musical group PLAID only help to lend more weight to the title, as their work on various anime titles in the past have been simply wonderful.
The scope of the project, is quite reasonable, though the May 2015 release date seems a bit too optimistic. The tiers and extras are sensible, and cover many of the bases that fans look for, which include Blu-Ray editions and soundtracks.
The $189,000 goal is absolutely attainable, and is sensible, given the stated production costs and requirements. I don't foresee difficulty with the project reaching this by the November 6 end date.
Intro Video
Supplementary Trailer
Creator Interview
For this segment, we conducted an e-mail interview with Joel Dos Reis Viegas and Denis Friedman. We want to thank both of them for taking the time to discuss the project with us!
Note: Interview edited for clarity
Anime Herald: For those who haven't heard of URBANCE, could you tell us a little bit about the project?
Joel Dos Reis Viegas: URBANCE is an animated Action TV Show for viewers age 16 and up, blending my passion for electronic music, Japanese animation and hip-hop culture. URBANCE is about human relations and the importance of unity against adversity.
Anime Herald: What would you say has been your biggest inspiration for the title? What films, shows, etc. would you credit as the biggest sources of inspiration for the project as a whole?
Joel Dos Reis Viegas: My inspirations are numerous, from movies to videogames. Akira and Tekkonkinkreet have been the two major influences as anime. Jet Set Radio and Rez were the games that inspired me the most.
Tron influenced me in the use of the neon/glow colors and the futuristic gears you can find on my characters. Storywise, I love stories taking place in oppressing worlds and where rebels pop up to fight the system.
Gattaca, Children of Men, West Side Story, The Warriors, 1984, Blade Runner, or even The Mistfits: All these movies or series contain these elements. And the list goes on…
Anime Herald: URBANCE seems to be a perfect storm of talent, with the combination of Superbot's core team, Plaid, and Hiroshi Shimizu. What led to this coming together of talents?
Joel Dos Reis Viegas: For Plaid, I loved what Ed and Andy composed for Tekkonkinkreet. Their music is deep and dreamy, tribal and furiously futuristic at the same time.
Their sound is really unique and I think it matches perfectly with what Kenzell and Lesya could listen is a near future.
In regards to Mr Shimizu, needless to say I was impressed by his career. Mr Shimizu worked with Hayao Miyazaki at Ghibli studio for years on anime titles like Princess Mononoke and Porco Rosso.
You may not know this anime, but Mr Shimizu was the animation director on Venus Wars. Just knowing that convinced me to have him on board!
I love his line art and I thought that would be perfect to bring such smoothness and emotion to my designs.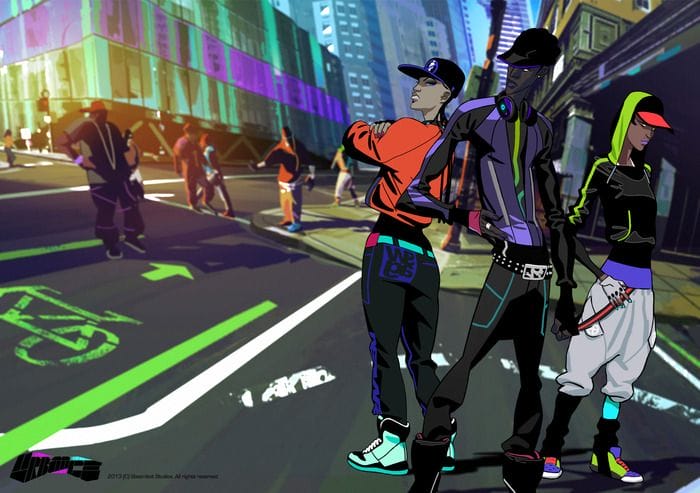 Anime Herald: Your KickStarter page mentions that you'd like to create URBANCE with no artistic compromises.
Denis Friedman: Most of the TV series targeting a family (or pre-school) audience are heavily financed by broadcasters that are usually giving a lot of input on what the story and even the graphics should look like.  As we are really targeting URBANCE for a 16+ audience, we have decided to use a different financing route to make sure that no one will impose their view on what the story should say and how the animation should look like. We are pretty confident that if we do our job correctly in delivering a very high quality show, some broadcasters will then join the project.
Joel Dos Reis Viegas: Exactly. We don't want to compromise the overall quality of the show or the power of the message behind the story.
Making a show like URBANCE is difficult because it's targeting a mature audience, and making beautiful animation is expensive.
People want a new Akira or a new Tekkonkinkreet. We want to try to do as good, or even more if that's possible!
We need all your support to get the budget to produce the pilot we have in mind!
Anime Herald: We've actually seen this sentiment echoed in conversations with the Under the Dog team, who express similar sentiments as to their turn to Kickstarter. Is this outside pressure something that's common in the western industry? What would you say is your biggest concern in this regard, given that this is a Steambot original project?
Joel Dos Reis Viegas: Well, same as URBANCE, Under the Dog has big expectations artistically speaking.
As independent projects, it's difficult to get the same big budget as big studios, that's why Kickstarter makes sense for us and gives a new perspective to the whole animation industry.
It is a unique chance for indies to prove we can make as good as big productions, as long as the people will continue to support us.
So my biggest concern is not if Steambot is able to do URBANCE, whatever the budget is, but to have enough money and support to make URBANCE the best we can.
Anime Herald:URBANCE is a project with a several lofty goals. If there were one thing you'd like a fan to take away from the final finished product, what would it be? What will be the biggest underlying message for viewers to embrace in the production?
Joel Dos Reis Viegas: They would probably say: "the gangs, the music, the battles…That was intense"!
If you are looking for something totally original, an anime with a new and unique visual, a striking story full of surprises and emotions, URBANCE is for you!
Anime Herald: How would you describe your experiences interacting with and, in some cases, working directly with your backers so far?
Joel Dos Reis Viegas: It's a huge privilege and I'm really happy to experience that! It helps us refining some aspects of the show and confirms others too.
It's like singing with your public on stage, all together. This interaction will obviously make URBANCE better.
Anime Herald: Is there anything that you'd like to say to our readers?
Joel Dos Reis Viegas: Please continue to support URBANCE and spread the word around you! Together we will make a great TV show!