ScarJo-st in the Shell. Remember that North American Ghost in the Shell adaptation? No? Awesome.
The film just got a lot more visibility with a report from Deadline. Apparently, Scarlett Johansson was offered $10 million for the role of Major Motoko Kusanagi. There's no confirmation of whether she's accepted the role yet, but I wouldn't be shocked if we hear Johansson's response before too long.
The Otaku Takeover? Really? You know, a lot has changed in the anime fandom over the years. We've changed hats, from a gang of misfits to a geeky-cool niche.
Gone are the days of living within Suncoast and those dusty corners of record shops. Instead, anime is everywhere, from Netflix, to Adult Swim. This transition has been a crazy, surreal ride, all said and done. Shooting Star Dreamer really captures that feeling of being there, when "anime" changed from being a dirty word to being a fun subculture.
A Discussion of Aesthetics. Digibro from My Sword is Unbelievably Dull dives into a great question: Why don't we discuss aesthetics in anime critiques? Why is it overlooked when we break anime films down in reviews and commentary?
Buns in the oven? The latest meme to hit Japanese social media is the "pregnancy test reaction shot." It's silly, quirky, and just that right breed of weird that proves to be funny, rather than off-putting. One of our favorites is this one:
OMG @AnimeGuy94 you got Tomoko Pregnant!! #animepregnancy #watamote pic.twitter.com/xQqhjO49j2

— Stickerfan (@Stickerfan100) October 18, 2014
Gotta Catch 'em… OH DEAR GOD! Junji Ito, creator of nightmare fuel like Gyo and Uzumaki is working with Nintendo to create a series of Ghost Pokémon illustrations this month. Yes, they are horrifying. No, I wouldn't sleep with the lights off for a while.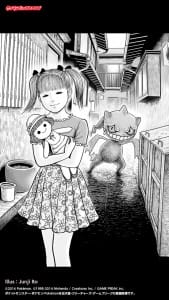 More Tezuka? Yes, please! Digital Manga announced that they'll be starting a KickStarter drive for six Osamu Tezuka titles. The core goal will be to fund two titles: Three Eyed One and Rainbow Parakeet. The first stretch goal will be for Wonder Three and Alabaster. Two titles have yet to be announced, so we're on pins and needles waiting for things to finally launch!
More Lupin III? Yea, Please! news is leaking out of Cannes' MIPCOM trade show that a new Lupin  series will hit the air in 2015. The series, which is the first mainline series (Sorry, Fujiko!) to hit since Lupin III Part 3 in 1984. The new series will be set in the Italian Republic of San Marino and, as a first, will make its début in Italy before it hits Japanese airwaves. As another shock, Lupin will be ditching his trademark red and green blazers for a striking blue and black number.
New Love Live! Single? New Love Live! Single. Nico, Nico, ni! To commemorate 3 million downloads of the Love Live! School Idol Festival mobile game, KLab announced that they would release a trio of singles made exclusively for the game. Each of the three singles will cover a different "group", with the first hitting later this month.
The first single, Eien Friends, features the vocal talents of Honoka (Emi Nitta), Kotori (Aya Uchida), and Hanayo (Yurika Kubo), and will hit record stores on November 12. A preview for the album was posted online though the full single will include two songs and a mini-drama.
The second single, which hits stores on November 26, will feature Umi (Suzuko Mimori), Rin (Riho Iida), and Nozomi (Aina Kusuda). The third single will star Eli (Yoshino Nanjo), Maki (Pile), and Nico (Sora Tokui).
Did you miss me? Sexy, sassy witch Bayonetta makes her anime début in the west with Bayonetta: Bloody Fate. If our review  didn't sell you, FUNimation has you covered. The company posted the first 9 minutes of the film online in dubbed format. For those wondering, Hellena Taylor returns to give the Umbran Witch her signature snark.
For those who want more Bayonetta action, Bayonetta 2 hits stores this Friday on Nintendo's WiiU console.