I'm pretty sure we just did one of these…  Maybe two.
Joking aside, Love Live is a white-hot property in Japan. The series, which spans anime, manga, video games, and even music CDs, has garnered a massive following in Japan. Their faces can be seen in everything, from bath towels, to cell phone straps, to even Pizza Hut!
Given this fictional group has as much popularity as some real idols, it's not hard to imagine that eager fans would celebrate one of the members' birthdays in a huge way.
October 21 marks the birthday of Eli Ayase (affectionately called "Eli-chi" by her fans), the half-Russian senior, who really helps the group step their game up to a new level. She's the Otonokizaka High School Student Council president, and a former ballet dancer.
And, like most μ's members, she has one heck of a devoted fanbase.
With Eli's birthday came a giant show of affection. Fans across the globe have been posting their best birthday wishes for the fictional idol since the clock hit midnight (Japan local time).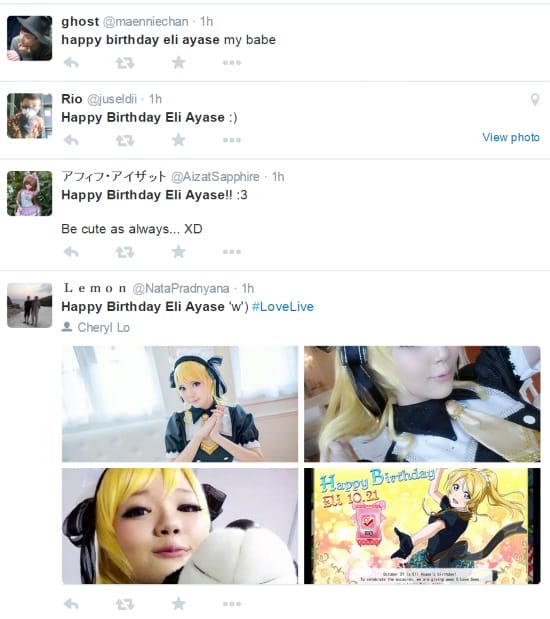 People are even posting full bulletin boards filled with birthday wishes, in some cases!
★【アミューズメント景品情報】
本日はラブライブから絢瀬絵里ちゃんのお誕生日です☆〜(ゝ。∂)
おめでとうございます〜!
沢山のお祝いのメッセージを頂きました‼︎
ありがとうございます!#絢瀬絵里生誕祭 #ラブライブ pic.twitter.com/yY3M2u0Yb4

— ラウンドワン池袋店 (@r1_ikebukuro) October 21, 2014
In addition, local shops, from Toranoana to Tower Records have been posting special displays to commemorate the occasion.
Even the official Love Live! smartphone game, Love Live! School Idol Festival, is marking the day with a special give-away, and a free five Love Gems to those who log in on Eli's big day.
What's most inspiring to see, though, is the artwork. Dozens of gorgeous illustrations of Eli have filtered onto the internet, be it through Twitter, Pixiv, or even Tumblr! And, with each photo comes an expression of sheer adoration for the idol. Some are cute, others are silly, but the outpouring of raw affection has been nothing short of remarkable.
We've posted a number of our favorite illustrations below. Do you have a personal favorite that we missed? Let us know in the comments!