If you've been reading the Herald, you know that we've been following the progress of the Monster High anime, from its initial announcement, to the promo video release a few days ago.
For some, the build-up has been a tease, as little details were let out, with no clue on how the overall series would be handled. Would the series be full 23-minute episodes? Would they be handled like the North American webisodes? Outside of a few character designs, the whole production seemed to be a mystery.
Today, the veil was finally lifted. The first episode of the Monster High anime series made its début, and was quickly uploaded to Mattel's Japanese YouTube account.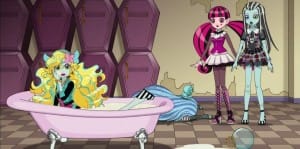 The episode, which runs for about three and a half minutes, serves as an introduction to the cast and setting. The plot focuses on Draculaura, who learned that Frankie Stein would be transferring to Monster High. And, like any eager vampiress, she immediately rushes to tell her friends Clawdeen, Ghoulia and Lagoona. Little does she know that, along the way, one of Frankie's loose threads got caught on poor Draculaura, who unknowingly dragged the poor girl along. All the while, Clawdeen, Ghoulia, and Lagoona try to point out the obvious to their vampire friend.
The series is basically a short-form comedy. The tone is light and silly, and the sight gags and verbal jokes are thrown about with reckless abandon. The visual gags are surprisingly funny, and the verbal jokes are often silly enough to work.
The character designs are charming, and show a lot of personality. Draculaura and Frankie are the stand-outs, with plenty of extra details that help their overall looks pop in the eyes of the viewer. The animation is a bit on the cheap side, though, with skipped frames and a generally stiff presentation.
Some of the characters did change from their North American counterparts. Specifically, Lagoona acquired a new-found obsession with moisturizing in her transition to anime, and Ghoulia now travels with her faithful pet, Sir Hoots A Lot.
Overall, though, the Monster High anime première was generally successful. With a playful sense of humor and a charming cast, it's easy to see fans and non-fans alike falling for this incarnation of the franchise. It will be interesting to see if the show can build off this strong foundation in upcoming episodes.