This weekend's been a fantastic one for con-goers. Comikaze in Los Angeles has delivered a fun and exciting weekend for fans and guests alike. On the east coast, well… let's not talk about that convention too much.
That said, the past week has been one filled with tricks and treats for fans everywhere, as everyone seemed to get into the Halloween spirit. While the holiday is over, we've gone ahead and gathered that sweet, sweet content that's well worth your attention.
War, Peace, and Revolution. Those are the three steps in the never-ending dance of history, according to Gundam Wing's Mariemaia Kushrenada. The title is seen as a landmark, well worth the time of even those that don't tend to watch Gundam.
For those who wish to revisit this classic (or just see what the fuss is about), Bandai has you covered. The Gundam Official site is streaming the three OVAs on their website in both dubbed and subtitled formats. Unlike the dance of history, though, Endless Waltz is only available for a limited time. Those who want to check the series out should do so before it's too late!
https://www.youtube.com/watch?v=pOcbEl-KESA
School lunches, Ghibli style. Let's admit it. At times, food shown in anime can look amazing. The ramen in Castle of Cagliostro, or the lunch boxes in My Neighbor Totoro look like they could very well be manna from heaven… were they to exist.
One middle school in Mishima, Japan opted to see if the magic of the "Ghibli Lunch" could be captured in real life. Unfortunately, they missed one key fact: school lunches are always kind of a let down.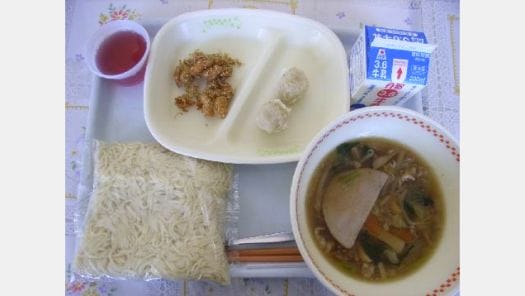 No Game, No Life, All the sales! Jibril has a reason to drool over this information! Last week, the New York Times announced that the first volume of the No Game, No Life manga topped their Manga Best Seller charts for the week ending October 25.
Ah, ParaKiss! Looking for a Sunday read? Manga Bookshelf gives a fantastic breakdown of Paradise Kiss, and why it belongs in your library.
The times, they are a-changin'. Still at a loss for a Sunday read? Why not take Organization ASG's recommendation for No Longer Heroine by Momoko Koda?
A new challenger appears in the streaming market! …Kind of! Otaku Review reports that Bandai, Asatsu-DK Inc. and Aniplex will partner to create a new streaming anime site. The venture, known as Anime Consortium Japan Inc. (ACJ), is slated to have general setup finished by November 7, which is when Daisuki will be pulled into the fold.
The actual ACJ site will open next April and, like Daisuki, it will serve streams, sell goods, and try to pry us all away from Crunchyroll.
So long, anime taxis! Taxi company Choei Taxi received a court ruling to commence bankruptcy proceedings. The company, which pioneered the idea of the "Ita Taxi" (taxis decorated with anime or game character decals), has about $2.3 million in debt. Revenues have dropped, due to an inability to compete with newer, more effective rivals.
It's a shame, but at least fans can still ride to Akiba in a Madoka Magica taxi.
Israel gets an anime film. Last June, The Japanese Embassy of Israel introduced Shalom-chan, a parrot adorned with the Star of David and carrying an olive branch, to the world. this month, they've gone a step further.
In a partnership with Manganimation, the Embassy is producing a series of anime shorts[8] designed to promote travel to Israel. The reaction to the film seems, well, mixed, to be kind.
It's still airing in Japan, but it's dubbed! You're not dreaming, dub fans. FUNimation announced the Broadcast Dubs Initiative, which will see the company dubbing shows airing in the current anime season. Psycho-Pass 2 and Laughing Under the Clouds will be the launch shows for the service, which is open to subscribers.
Your moment of Nichijou Zen. Let's close things of this week with a short Nichijou AMV that speaks that truth: "everything is awesome!"