Update: Those seeking refunds, please contact [email protected]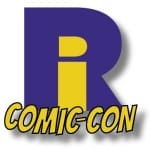 As many of you know, we've been proud to cover RI Comic Con for its first two years of existence. It was never directly related to anime, but it was an event in our back yard, and we were more than happy to give it publicity and promotion. And, while there were definitely some definite growing pains, the event seemed to improve year over year.
Due to a number of circumstances, we were unable to have a team on-site at the convention this year. That said though, it may be for the best that we were unable to attend.
Before the doors opened, everything seemed to be going perfectly for RI Comic Con this year. The event booked high profile guests like William Shatner and George Takei, and ticket sales were amazing. The event sold over 20,000 tickets by the time the doors opened this morning!
There's a small problem there, though. The RI Convention Center only holds about 17,000 people at maximum. The event grossly over-sold its location, and were actively selling tickets at the door.
Shortly before 1:00PM, the Providence Fire Marshal arrived on-scene to cap attendance. Those who attended the event and were given wrist-bands were unable to re-enter the event. The time didn't matter. If an attendee was there for five minutes or two hours, once s/`he stepped out, be it to the streets or the Providence Place Mall, s/he was barred from re-entry.
RI comic con is oversold so hoards of people trapped outside who went to lunch. Organization of this con is terrible. #ricomiccon

— Javatar (@Javatar) November 1, 2014
Lines extended around the convention center, with many waiting hours only be turned away at the doors. As one can imagine, people were pissed off.
All through the day, social media buzzed with complaints and gripes about the convention, the lines, even the treatment of those who made it into the event. There were tales of poorly trained, unhelpful staff, mismanaged lines, and unhelpful documentation. People complained that rooms weren't cleared, and that lines cut off important structures like restrooms and entrances.
I've been staffing cons for a few years now and I've never seen such incompetence as this. Poor management all around. #ricomiccon #ricc

— Nate Buchman (@Nate_B) November 1, 2014
And then, there were the cases where people left, and weren't allowed back into the event. The event's Facebook page erupted with stories of families split apart, and people being sent home after a lunch run. Those who remained likened the experience to being treated like cattle, unable to move, and forced to follow clumsy herds of people through the convention center.
The situation got to be so bad, that the hash tag #ricomicconfail2014 was born from peoples' frustration and anger. They were frustrated, they were angry, and they were calling for refunds. They were upset that the event was oversold, and that the tickets that they paid up to $180 for meant nothing.
All the while, RI Comic Con as a whole remained deathly silent.
Well, kind of.
At about 3:00PM, a single message appeared on the RI Comic Con Facebook page. The post has since been deleted, though it remains on their Twitter account, stated "Hello RICC fans! WE ARE NOT OVERSOLD!"
Hello RICC fans! WE ARE NOT OVERSOLD! Unfortunately, everyone loves our show so much that they don't want to… http://t.co/m6RS2dsiV4

— RIComicCon (@ricomiccon) November 1, 2014
About two hours later, a second post was published, that tried to downplay the problems the event was facing. They called the fiasco a "hiccup", and stated that the doors were open for all attendees.
Unfortunately, the RI event closes at 7:00. The only events not in progress at this point were the Costume Contest and the Silver Age of Comic Book Art panel, as well as a screening of Rocky Horror Picture Show.
And, as one would expect, social media was again filled with righteous anger. People who waited for hours outside were only just being let inside. The event responded to these with half-hearted apologies, arguing that they were in the right, and that they were assured that "turnover capacity" would be enough. They stated that they were "working on a remedy" to the issue, though refunds will not be given for Sunday.
The event gave no specifics on refunds, or missed photo ops. They merely gave platitudes and promises that things would be made right in time.
For a new event, this is embarrassing. For a third-year con, this is simply unforgivable.
At the moment, RI Comic Con is being compared to the infamous DashCon. The sheer incompetence displayed by the staff and the event has become a joke that's been reported by local outlets like the Providence Journal, as well as major news sites like Slashdot.
The event's social media strategy has been a comedy of errors. They've gone against every best practice imaginable. They've been combative to paying customers, unwilling to take responsibility for their shortfalls, and utterly unable to turn this negative situation into a positive. They've downplayed the magnitude of a serious misstep, and their apologies have come across as forced and insincere. On top of this, the event deleted countless negative posts from their Facebook page, leading to a greater outcry from angry customers.
And, at this point, nobody buys it. The event's been a disaster. They know it, the guests know it, even the viewing audience of NBC 10 news knows it!
Families were separated. Vendors were barred from returning to their booths. People stood outside in a rainy 40-degrees for hours only to be turned away. Traffic was backed up for hours due to inadequate parking. People were packed into an event hall like cattle, with little room to move or maneuver, and countless photo ops that people paid for were left unfulfilled.
Thankfully, nobody was injured.
The fact that there hasn't been a sincere apology, or a concrete announcement of how things will be made right is just astonishing. It's an odd paralysis that reeks of desperation and incompetence, as the group tries to find footing.
If RI Comic Con wishes to regain their good reputation, they'll need to take every step imaginable to make things right with those that have been wronged by this fiasco. To do so will take a genuine admission of fault, refunds where needed, and a lot of ensuring that this will never happen again.
Of course, this is assuming that the city of Providence renews their permits next year.
Update: 11/2/2014
In its second day, after numerous promises to make things right, the situation doesn't seem to have improved much at all.
As of 11:30AM, reports that the event's capacity began filtering through social media sites like Twitter and Facebook. At the same time, there have been reports of no staff telling the people waiting in the line at the door, which currently reaches around the entire perimeter of the Rhode Island Convention center. Complaints are rising from customers who paid for their passes, but have yet to even set foot inside the convention center, despite waiting line both days.
At capacity again! What a waste of a weekend pass #RIComicconfail2014. Haven't stepped a foot in the con yet, #refund #wtf

— Joshua Monteiro (@MonteyTalks) November 2, 2014
#RIComicconfail2014 pic.twitter.com/9yZhc9YpYC

— Genevieve (@EveMarceau) November 2, 2014
Possibly more egregious, though, is the fact that the event continues to advertise that tickets are available at the door.
Those who arrive are being turned away, as they're informed that they might be able to buy a ticket "in an hour or two."
https://twitter.com/kevinrpereira/status/528955224447533057
Of course, things aren't exactly much rosier inside the show. The event has been chaotic, to say lightly, with numerous "Code Adam" calls, for parents to pick up their unattended children.
Fans who pre-purchased photo ops are being told that they wouldn't be receiving actual photographs, as the convention ran out of paper. Instead, they will receive a link to download the digital file for their own processing.
This is, of course, assuming that the events take place as scheduled. Numerous complaints have been filtering into the RI Comic Con Facebook, regarding photo sessions that were rescheduled at the last minute. The reschedulings are severe, with some events being moved as much as four hours earlier than previously planned. Other sessions were cancelled without warning, leaving customers empty-handed, despite paying for the photo opportunity.
The complaints have been hitting hard and fast, both on Twitter and RI Comic Con's Facebook page, as people griped about rude staff members, and false advertisement. Some have begun circulating the phone number for Rhode Island Attorney General Peter Kilmartin, in hopes that the state can involve itself in the matter on behalf of ticket-holders.
Rhode Island Attorney General phone number (401) 274-4400 – Contact about #RIComicCon Issues!! #RIComicconfail2014

— Stacy Place (@OneDizzyPenguin) November 2, 2014
Since yesterday, the event's social media accounts have been silent. There have been no responses offered to the angry attendees, nor have there been any solutions offered to the current conflicts. There's been no word on refunds or the rescheduled events. The convention hasn't updated people on the crowd situations, or even announced that they are at capacity again.
Instead, they've been deleting comments through the day. Anecdotes and complaints have been steadily disappearing from the con's page, only to be replaced by more aggravated commentary. We've captured a selection of stories below:
For many at this point, the convention is an irredeemable mess. Vendors have been shut out of their booths, paying customers have been turned away, and any complaints are being either ignored, or outright silenced.
At this point, things are dire. This could have been an opportunity to make things right, and really improve the experience for those that decided to give the con a second chance, as they braved 37-degree weathers, and stinging rain. Unfortunately, it looks like RI Comic Con was unable to stand tall, and take charge of the situation.
Update: 11/3/2014
After two days of silence, the convention released an official statement, regarding the problems the event faced this weekend:
On behalf of everyone at the 2014 Rhode Island Comic Con, please accept our heartfelt, sincere apology for the numerous and unacceptable issues that arose during this past weekend's convention held at the RI Convention Center on November 1 and 2, 2014.

The simple fact is, the show simply became a victim of it's own success. This was the third year of the show, but this year didn't follow the traffic patterns and flow that were present during previous years. For the first time in the Rhode Island Convention Center's 22-year history, the crowd exceeded capacity according to Convention Center general manager, Lawrence J. Lepore.

Convention Organizer Steve Perry of Altered Reality Entertainment responded to the criticism. "Bad weather, a lack of accurate real time data and poor training of staff and volunteers made a bad situation worse. Frustrated ticket holders understandably took to social media and we failed in our responses. We were trying to focus with on fixing mistakes from within and did not react as professionally as we should have."

Rhode Island Convention Center's Lepore also commented, , "We know at one point as people come and go what we should have done — and didn't do — was put them in a turnstile on the way in. We did not know the number that was leaving. As we continued to bring people in, clearly we were over capacity."

Perry has met with the Attorney General's Office as well as Ticketron and the Convention Center. "It's unfortunate that what should have been a fun event left guests unsatisfied, disappointed and frustrated. On behalf of Rhode Island Comic Con, I'm sorry."

"We're proud to bring visitors and fans to the Ocean State for this event and please know that we take our responsibility to our guests extremely seriously, and are confident that the steps we've taken will prevent this type of issue from happening again."

If you purchased tickets to Saturday's show and were unable to attend, you may contact the convention center for a full refund.
At this point, there have been no solutions offered regarding those shut out of Sunday's proceedings, nor have there been solutions offered regarding missed photo opportunities.
However, this apology marks an important first step. It's a recognition that the event, as a whole, made a grievous mistake over the course of the weekend. Hopefully, in the coming days, the con will address those with issues still outstanding.
According to the Providence Journal, over 1,500 were turned away on Saturday. General Manager Lawrence J. Lepore stated the following about the situation:
There is a misnomer that the building was over capacity," he said. "It really was not, because a number of rooms were not being used." The problem was that "all the space that the show was using" was too congested.
Lepore reiterated that the he doesn't feel the event was oversold. According to Lepore, the biggest contributing factor to the situation was that "so many people showed at a certain time and all tried to get in at the same time,"
The Journal reports that he expanded on his statements later, stating the following:
"That's where I think we fell short. From the building aspect, we're used to doing these shows," such as the boat show, the flower show and car shows, "where normally you walk the building in two hours and you see everything," he said.

"It's unusual that you have people come in at 8 a.m. and they're still here at 6 p.m."
When asked about how to prevent this from happening in the future, Lepore stated that "We certainly need to be more proactive in the show next year, maybe extending it into a third day." On top of this, the show may need to use the convention center, as well as spaces in the adjacent Dunkin Donuts Center.
Lepore has stepped up, and stated that the event takes responsibility for the problems that occurred over the weekend. "It falls on the show's producer and on us," stated Lepore.
But, overall, I'm still not impressed by this explanation. While it's good to see the higher-ups starting to take responsibility, there is still a degree of blaming the customer in this, as they stated that guests should have turned over, and not lined up. They felt the 4-hour waits outside were good enough, despite the fact that events like New York and San Diego run until the early hours of the morning, while RI Comic Con ended at about 7:00 PM.
There just feels like a disconnect between what they expected from an event of this nature. It's clear that they expected this to be like the Home Show, the Car Show, or the Boat Show, where people come in, maybe buy something, then go home. And, for a geek con, where thousands gather to socialize and meet people and just have fun for a weekend, that just doesn't fly. Comic cons aren't a money mill.
Well, that's not true. They are commerce-centric, lest the dealers not show up year over year. That said, though, they're not treated as cash fountains. They've always been looked at, and treated as unique experiences, where people can just let loose and let their fan flag fly! They're not places where people go in, buy a graphic novel, maybe see a panel, and go home.
Seriously, Lepore's apology reads like that BP parody from South Park, But I digress.
I'm glad to hear that they are taking responsibility for this fumble, and that they are taking steps toward fixing their problems for next year. Likewise, it's good to see that they're finally stepping up and giving refunds to those who were locked out on Saturday and Sunday.
It will be interesting to see how things shape up next year. Hopefully, as stated before, this becomes a real teaching moment that will ensure that this never happens again.
We will continue to update this article, as the situation continues to develop.
Those seeking refunds, please contact [email protected]
Editor's Note: Previously, I had a bit about Eliza Dushku having her personal property stolen. This actually occurred when she was checking in at the Omni hotel. This was unrelated, and I've since removed the item on a second verification. Thanks, Mitch Foley for pointing that out!
Update: Ms. Dushku's story has a happy ending, at least. The thieves were apprehended, and her bag was returned.
Update: 11/6/2014
Altered Reality CEO Steven Perry posted an apology to the RI Comic Con Facebook page:
I'd like to apologize once again to all of the guests who had disappointing or frustrating experiences at this past weekend's RI Comic Con.
After we learned of the doors being shut at 2:00 pm on Saturday, my staff and I were so busy dealing with various issues onsite that we didn't have a chance to respond to social media postings in a timely manner. For that I am sorry, and have learned a valuable lesson that swift timing of responses is critical on all social media channels. We did monitor postings when we could and deleted those that contained swears and inappropriate language. All other posts – the good, the bad and the ugly – remain up for all to see.

Our staff and volunteers showed amazing resilience and dedication in the face of a tough situation that, in hindsight, our organizations were not fully prepared for. From delayed shipments of lanyards and badges, vendor load-ins being delayed by President Obama's visit to Providence on Friday, to the over-capacity crowd and customer service issues, we had our hands full. As the saying goes, "Hindsight is 20/20" and I can guarantee that combined with our experience running RI Comic Con, we have learned a valuable lesson in how to run an event of this magnitude here in Rhode Island and will be training hard to ensure that what happened this weekend simply will not happen again.

I am so very thankful for all of the guests and fans who have reached out to share their stories, both good and bad, so that we can ensure that everyone who comes to one of our future events experiences the highest level of customer service and appreciation that they duly deserve. A highly respected, long-time, convention-appearing, celebrity agent decided to share their many years of wisdom, improvements and suggestions for future conventions ranging from floor layout, ticketing, traffic flow, signage, and staff training. Many of these recommendations are already being put into place for future events

For the record, I don't control or manage ticket sales. I rent the RI Convention Center as the venue for our event and plan to increase our floor capacity for 2015 by expanding into the Dunkin Donuts Center facility as well. I'm also meeting with RICC management to review changes for next year to improve communication on the floor with our staff/volunteers regarding ticketing controls for capacity issues, and traffic flow as well as extending the show to 3 days to help give the fans a more enjoyable experience.

For those who were turned away at the door, we are in contact with the RI Convention Center box office to process your refunds as quickly as possible. Thank you for your patience as we make sure that each guest is taken care of.

For those who were able to only enjoy our event for a short time before being turned away at the door after leaving briefly, or for those who did not receive all items for their swag bags or have questions on photo op refunds, please contact [email protected] and our staff will work with you to make good.

Again, I wish to extend my deepest gratitude to everyone who has reached out and helped us learn as we continue to grow. Thank you.
It took a few days, but we're finally receiving a real apology from the people in charge. A sincere admission of wrongdoing, and a pledge to refund those who were turned away, or even didn't receive the regular "swag bag", are very much appreciated, and well-stated first steps.
Whether it will help to bring angry customers back next year or not remains to be seen, and I would not be surprised if the convention has a large number who will simply never return. With the countless stories and experiences shared on their page, and even in our comments section, it's clear that there were a lot of missed opportunities and blatantly combative actions taken that need to be looked into and accounted for.
The post itself, in its entirety, is provided below:
Those seeking refunds, please contact [email protected]
Note: I'd like to extend a sincere thanks to everyone who's contributed stories, links, and the like to this article. An extra-big thanks goes to Brian Auxier, who has been immensely helpful in keeping us up to date on the social media situation!
Update: 11/13/2014
RI Comic Con issued a statement on its Facebook page, stating that the final deadline for refund collection will be November 14, 2014. The first notification came about on November 7, as a reminder for those who were seeking refunds for missed photo ops, missing VIP bag items, unscanned tickets, and so on.
A screenshot of the post is below:
Yesterday, the convention released a final update, stating that all refund requests must be submitted by November 14, 2014.
Conclusion – 11/21/2014
Now that the dust has settled, I'd like to take a minute to really just say a few words.
Mostly: "Wow. Just Wow." To see how a third-year event could mismanage things so badly, from the communication to the messaging, is amazing.
I often like to bring up the "Motrin Moms" fiasco of 2008, where Motrin (owned by Johnson & Johnson) put out a controversial advertisement to mothers, which sparked an outrage on the #motrinmoms Twitter hashtag, as well as in countless parenting blogs.
The company did not have an official Twitter presence, and took the nuclear option to rectify things, by removing the ad entirely. A formal, written apology wouldn't hit until several days later.
What happened with RI Comic Con was as bad, if not worse. The fact that Motrin Moms happened six years ago now shows that there is a clear blueprint of how not to respond to a situation. RI Comic Con's outright stonewalling, denial of wrongdoing on social media, and the continuing to sell tickets even after the event reached its cap just boiled over to become one of the worst convention horror stories to since DashCon.
Now, I'm not saying it was DashCon. That was a special (very special) case in its own right that deserves to be in a lot of case studies on how not to run an event. Ever. I'm saying that this is one of the biggest blunders since the event. They underestimated a lot, and placed their priorities in the wrong place.
People waited outside for hours, only to be told they couldn't go into an event they paid for. Paid-for photo ops were moved and changed without notice, and fans weren't guaranteed the printed photos that they put money toward to purchase. Customers were locked out after leaving for lunch, and they were unable to enter panels, due to the event's "no clearing" policies. Waits in line were chaotic as queues were un-managed and unwieldy.
To put it frankly, RI Comic Con didn't know how to handle its growth. The fact that they reached capacity so early, and expected people to treat the convention like a boat show indicates that they were clueless as to handle the very community they targeted. And, unfortunately, nobody really won in this case. Fans were left feeling rightfully jilted, angry at an event that was oversold while turning people away at the door. The buck continued to be passed, and officials used plenty of loose terms to try to shift responsibility until the final, real apology from Altered Reality's CEO.
On the flip side, RI Comic Con got a massive black mark on its reputation for mis-management and a generally callous response in its most crucial hours. This spread so wide, so far that it trended on news sites across the globe. Rival convention Atlantic City Boardwalk Con offered a 25% discount, capitalizing on the image of a young Rocket Raccoon cosplayer that was turned away at the doors of RI Comic Con.
That said, though, this is a pivotal moment for the convention. Their apology, although late, and promises to make things right helped to repair the bridges with some angry ticket-holders. It's one that they can learn from, and use as a point to really drive the change needed to evolve the event.
By making things right, by refunding tickets, replacing lost items, and admitting they were wrong, the event took the first baby steps toward repairing its image with the community. It wasn't something that would redeem RI Comic Con entirely, and there are a lot of people who will simply never return after this year. At this point, though, the ball is in RI Comic Con's court. Their fate will be sealed with how the next event turns out.
For those who joined us from the beginning, I want to take a moment and thank you. Those who commented, who told their own stories below, you are all just amazing. Your perspectives, your views on the event itself were valuable, and helped to really tell the full story of the event itself. And for that, I thank you. It's been a pleasure meeting you, and I hope that I'll continue to see some of you pop up from time to time in our comments going forward.