Japanese snack company Koikeya announced that they are collaborating with Toei Animation to market the company's tortilla chips. Starting November 21, the mugs of the five Sailor Guardians and Tuxedo Mask will be plastered on bags of Koikeya's three flavors of tortilla chips (Avocado Cream Cheese, Bagna Cauda, & Grilled Pork Balsamico).
Collectors who seek to complete the set will need to track down 18 bags in all, as all six designs will be included across each flavor.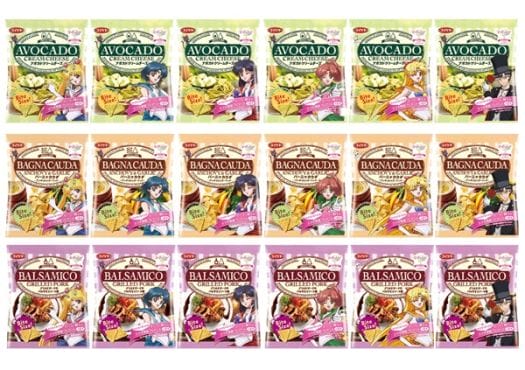 In addition, each bag will include a QR code, which will link customers to a free download of one of six original Sailor Moon Crystal smartphone wallpapers. The chips will hit stores on December 8, though the campaign's website is slated to open on November 21.