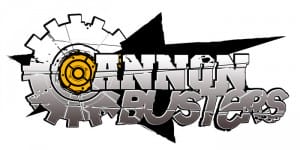 Project Name: Cannon Busters: The Animated Series Pilot
End Date: 12/3/2014
Goal: $120,000
What Is It?
Cannon Busters is an original animated feature from Makestuff, LLC. The title is based on a concept by LeSean Thomas (Legend of Korra, Black Dynamite: The Animated Series), and features character designs by Joe Madureira (Uncanny X-Men Darksiders). Mechanical designs will be handled by Thomas Romain (Code Lyoko), and animation studio Satelight is tasked with animation production.
The feature itself is an a self-described "action-adventure dramedy" set in a fantasy realm. In this world, a powerful kingdom is under siege. A mighty sorcerer descended upon the realm, claiming the throne for himself. The king is in captivity, and the crown prince has gone missing.
S.A.M, a royal friendship droid and close companion to the missing prince, stands abandoned at the outskirts of her kingdom. She's alone for the very first time in her life, and she can't return home. With nowhere else to go, she sets off on an epic quest.
She won't do it alone, of course. Along the way, she's joined an obsolete maintenance droid, a smooth criminal, and a master swordsman with a bit too much love of the drink. Each of these individuals has a reason to travel, though the experiences they share will be the most priceless of all.
The KickStarter goal of $120,000 will cover all KickStarter-related costs, as well as production costs for an 8-10 minute pilot episode. Stretch goals will extend the episode up to 24 minutes, at a maximum.
Notable Reward Tiers
$15: Cannon Busters Digital Download (Standard Definition), Desktop Wall Paper
$25: Cannon Busters Digital Download (720p High Definition), Cannon Busters Poster
$35: Cannon Busters DVD
$50: Cannon Busters Digital Download (1080p High Definition & 720p High Definition), "Making of Cannon Busters" Featurette (Standard Definition)
$60: Cannon Busters Blu-Ray, Cannon Busters DVD, "Making of Cannon Busters" Featurette (Standard Definition)
$100: Art of Cannon Busters Art Book, Soundtrack Download, & All Rewards in $60 Tier
$250: Cannon Busters Blu-Ray, "Making of Cannon Busters" Featurette (720p High Definition), Illustration Print by animator Bahi JD, & All Rewards in $100 Tier
$500: "Making of Cannon Busters" Featurette (1080p High Definition), Illustration Print by creator LeSean Thomas, Special Thanks in End Credits, & All Rewards in $250 Tier
$1,000: Illustration Print by Mechanical Designer Thomas Romain, Art of Cannon Busters Art Book signed with sketch by creator LeSean Thomas, & All Rewards in $500 Tier
$5,000: Illustration Print by Character Designer Joe Madureira, Art of Cannon Busters Art Book signed by LeSean Thomas, Joe Madureira, & Key Production Staff, Cameo appearance in the pilot, Special Thanks mention in End Credits

Why Profile This Title?
Cannon Busters is that rare project where everything seems almost too good to be true, at first glance. It's a dream team of creators, who brought about numerous beloved shows and franchises, from Legend of Korra to Uncanny X-Men. Animation studio Satelight is a juggernaut in the anime industry, which helped to bring about fan favorites like Fairy Tail, Log Horizon, and Macross Frontier.
The world and characters presented are both charming and consistent with one another, and the production looks to have an incredibly strong base for long-term success, if production extends beyond the pilot.
The scope of the project is reasonable, and the December 2015 release date is refreshingly realistic. The tiers and extras are sensible, and cover many of the base "wants" from fans. This includes the practical, like Blu-Rays and digital downloads, to the extravagant things like art books, soundtracks, and prints.
The $120,000 goal is definitely attainable and sensible, given the stated costs breakdown for production and fees. With the current trajectory, the project should easily reach its funding goal.
Intro Video
Production Art
Mr. Thomas was absolutely wonderful – he sent us a large number of production stills and art pieces that we simply didn't want to see going to waste! So, rather than do that, we've provided our favorites below. Enjoy!
Creator Interview
For this segment, we conducted an e-mail interview with LeSean Thomas. We want to extend our thanks to him for taking the time to discuss the project with us!
Note: Minor edits made for clarity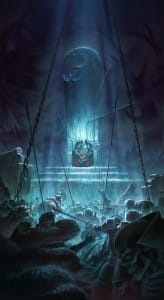 Anime Herald: For those who haven't heard of Cannon Busters, can you tell us a bit about the project?
LeSean Thomas: Thanks for asking! Cannon Busters is an animated project created by myself, based off of a comic book I began years ago. The comic book was not finished, but will hopefully live on in 2D animated moving pictures form.
The goal is to reach out to fans of animated projects like this via crowdfunding in hopes to raise a minimum goal of $120,000 (USD) to produce a 8-10 minute pilot episode (1 act) through KickStarter. If we are fortunate to reach our minimum goal, that can happen.
If we are blessed to surpass our minimum goal, our stretch goals will hopefully entice backers to raise their pledges to fund production for an additional 8-10 minutes, ultimately providing us with the funds to create a full 24-minute episode.
Anime Herald: Cannon Busters seems to have a number of massively talented people working behind it, from yourself, to Thomas Romain and Tim Yoon. How did you all come together on this?
LeSean Thomas: That's a long story that spans over several years, ha ha. But I will do my best.
I have been a fan of Joe Madureira (Battle Chasers/ Darksiders) for some time. Since I was very young. He has served as sort of an idol, a peer as well as a budding rival in my growing years, ha ha. Over time, he discovered my work and we became more in touch via the internet and in person.
He is a supporter of Cannon Busters as an animated project and, when I showed him the project and asked if he'd be interested in contributing, he agreed. Needless to say, I was elated and excited about the idea of having some of his character design contributions be translated to 2D animation, having seen his incredible design ideas brought to life in video games. I owe him quite a lot for agreeing to join the project!
Thomas Romain ( Mecha Designer of Space Dandy, Co-Creator of Code Lyoko, Basquash! and Co-Director /Character designer of Oban Star Racers) was someone I discovered years ago — as far back as 2008 — on Sav! The World/HAL Film Maker's Oban Star Racers. More specifically, the "making of Oban Star Racers' documentary that was included in the US Region DVD of the first 2 seasons.
It was a first for France & Japan to co-produce an original animated TV series of such caliber I believe, and it was not only fascinating to see these young creators work together in a Japanese studio, but it was inspiring to see these creators travel so far to achieve their dreams of collaborating with some of the talent responsible for many anime we enjoy. Needless to say, I was motivated and it in some part played a role in my decision to also quit my job at Warner Bros Animation at the time in Los Angeles to move to Seoul, South Korea to work overseas as an independent sub-contracting animation production artist at then newly formed animation house, Studio Mir (The Legend of Korra).
After Oban, he stayed in Japan, moving on to co-create some great animated series like Basquash! and design mecha for hit shows like Space Dandy. Several years later, Thomas contacted me via twitter to commend me on my lecture in Korea at a TedxTalk about my time in Korea's animation industry and embracing failure, called Successful Failures. He suggested he and I were alike, as he too moved from France to Japan to follow his dreams.
From there, we stayed in touch via correspondence. When an opportunity to produce this project came along, I reached out to him and Satelight Inc Japan (Macross Frontier, Bodacious Space Pirates, AKB0048) during a trip to Tokyo. And from there, we began developing. I'm very fortunate to be working with Thomas, he is one of a kind!
Tim Yoon ( The Legend of Korra, The Killers Miss Atomic Bomb video, Drake Vs. Lil Wayne tour animation producer) and I met during the production of Nickelodeon's Legend of Korra (Book 1) back in 2010. I was living in Seoul at the time when I visited home and paid a visit to Nickelodeon's offices. The Korra crew mentioned that their producer, Tim, wanted to meet me. He was fascinated with my exploits in South Korea and we had a long discussion about process, politics, the differences in production process, etc. We stayed in touch after our work on Korra & when I asked if he'd be involved in the KickStarter/production plan, he agreed to support the project and come on board.
Bahi JD (Space Dandy, Kids on The Slope, Ping Pong, Ghost in the Shell: Arise) was a younger talent I'd met via exchanges on art the DeviantArt community. Back then, he was just doing GIF animations online, but has since blossomed into a very strong key animator and is gaining momentum in popularity with his contributions to projects like Ping Pong, Space Dandy and Ghost in the Shell: Arise. He was working on Space Dandy when the opportunity to get him involved arose. We met in Japan for the first time the same time I'd met Thomas.
Another talent, Yann Le Gall (Basquash!), also contributed his amazing BG work on this project. I discovered him quite recently in the same time I'd began conversing with Thomas. I hope I can work further, as his work is just amazing!
All of these relationships kind of matured in a pretty organic way. I am blessed and fortunate.
Anime Herald: What led you to start working with Satelight on the project?
LeSean Thomas: Satelight's involvement came by way of Thomas. He is Satelight staff, and since I could not hire Thomas to help me on this project as a freelancer, the decision to go to him through Satelight made the most sense for both parties involved, to which I'm grateful. Having Satelight's involvement and support via Thomas is a valuable asset to this production. Should we get funded I'd love to see what more we can do together!
Anime Herald: In your project page, you mention that the industry has grown generally risk-averse and generally skews toward comedy, when looking at new ideas. Do you feel that KickStarter could be a force that can help change that trend?
LeSean Thomas: Having Seen four back-to-back animated projects of anime-influence (Urbance) and anime straight from Japan (Under The Dog, Little Witch Academia & Kick Heart) over the span of 12 months become successfully funded through KickStarter, I don't believe that it's a coincidence that alternative outlets for creating content for the masses to decide on exists now. It did not 10 years ago. Not even 5 years ago.
I have a great respect for the studio system. The studio system is why I've been able to work over the past 15 years and have had the opportunities that I've had in this animation community. I am not at all opposed to working for the studios, I do love them for what they bring and they do keep the market alive. But one cannot ignore the opportunity to be in a position to empower oneself via crowdfunding to see their visions brought to life by the consumers via crowdfunding.
That's not necessarily something that's afforded to the individual creator should they go through a studio, and it shouldn't, as studios have to make money as well. I just enjoy the fact that platforms like KickStarter and IndieGoGo exist. We're in a sort of "wild west" of content production today between the decline of Tv programming and the rise of subscription-based programming (Netflix, Amazon, Hulu, Crunchyroll, etc) and it will be interesting to see where it all takes us years from now.
Anime Herald: If the project proves to be successful, what would be your ultimate end-goal? Where would you like to see Cannon Busters in, say, 2-3 years?
LeSean Thomas: Going to series, of course. That would be my ultimate dream. I would like to be knee-deep in production of season 2 or 3 of Cannon Busters by 2017, ha, ha! That is my ultimate goal; to help bring new memories to a generation of animation fans like the greats before me did in the '80s and '90s which inspired me to want to pursue a career in TV animation to begin with. One can dream!
Anime Herald: Given your experience in the industry, what would you say are your biggest challenges, when transitioning from a series like, say, Legend of Korra or Black Dynamite, to a wholly independent work? On the flip side, what are the biggest opportunities in doing so?
LeSean Thomas: That's a great question. Largely in part because technically, given all my experience as a director, character design supervisor and a storyboard artist & a supervising director over the last 10 years, doing my own thing feels both daunting because it's my own work and familiar because it will be produced with the experience I've gained over the last decade. It's both exciting and harrowing at the same time, ha ha.
When you're helping someone else's vision come to life, there's a sort of comfort knowing you won't bear the brunt of all the problems, as it's just another project; it's not yours, you can only hope to gain a paycheck, make some new relationships, get a little notoriety and build up your IMDB menu (Internet Movie Data Base). But when it's your own thing, it's different.
Suddenly the paychecks don't seem to matter as much, the relationships you have determine how good your end product will be and you bear the brunt of its failure. I guess it's all serendipitous in that I find myself here again… in a position to face failure and fear head on again. And, with the help of some of th industry's best who each have their own accomplishments and experience, we have an opportunity to make this a great project that will benefit all involved or regret it, ha ha. I am highly optimistic in the former.
Anime Herald: I see you mentioned Escaflowne as an influence. What do you feel draws you to this title, and what elements do you feel would be at home in Cannon Busters? What would you say is your single biggest influence on the project as a whole?
LeSean Thomas: Escaflowne was a project that reflected the concept of a classic, sprawling and melodramatic love story. To me it had everything; a dramatic need for two friends to be together, the allies/enemies who joined in the story to help make (or prevent) that from happening. The mechs & creatures, the whisking away to another world, the sheer cheese, camp and epic scale mixed in, ha, ha.
The main title song, Opening to Escaflowne, is one of my all-time favorite anime songs and openings to an animated TV series by the brilliant Yoko Kanno. It was also co-created by mecha legend Shoji Kawamori, who ironically is the Executive Director of Satelight Inc! I think the Escaflowne fantasy elements in Cannon Busters will be more homages and less direct influences, as I still have a visual story to tell as well.
My single biggest influence on the project as a whole is my love of all those things that will be seen in the project should it be funded: Anime, Western animation, Classic, Japanese Role Playing Console Games of the 80s and 90s , Hip Hop culture and Music, Spaghetti Westerns and classic Eurocentric fantasy.
Anime Herald: Is there anything that you'd like to say to our readers?
LeSean Thomas: I'd first like to say "thank you" for reading this. This is all very exciting ,and I really hope this article in some way has convinced you to perhaps come on board and pledge to help us reach our goal. There's never been anything quite like this done in the West for some time, and I think in supporting this project, you'll in turn help open a door of possibilities that'll ultimately be to your benefit as far as newer and more original animated content is concerned.
Wishing you all the best and hope to be celebrating with some of you on December 3, when we hopefully reach the finished line funded and ready to knock your socks off! :-)