What Is It?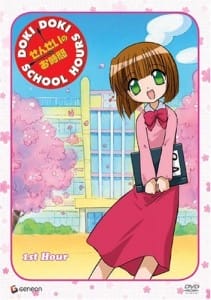 Doki Doki School Hours is a 13-episode comedy anime based on Tamami Momose's 1997 manga of the same name. The series was directed by Yoshiaki Iwasaki (Hayate the Combat Butler!!, Love Hina) and animated by J.C. Staff. It was released in North America by Geneon Entertainment.
The series is a school comedy set at the fictional Okitsu High School. It's a this school that Mika Suzuki ekes out a living as a teacher. She's a good teacher who's well-liked by her students, who call her Mika-sensei. that said, though, she has a tiny problem. Despite being a grown adult of 27 years, Mika stands at 148 centimeters (about 4 feet, 10 inches). To make matters worse, she has a baby face, which means that it's difficult for anyone to really take her seriously.
Mika's class is a gaggle of outcasts and misfits, that include (but aren't limited to) a narcissistic, cross-dressing playboy, a popular girl with a love of splatter flicks, and a gorgeous lesbian with a clear interest in getting some "extracurricular attention" from Mika-sensei. Each day is filled with frustration and humor, as Mika does her best to hammer some knowledge into her students, while also dealing with their eccentricities.
When working with such a unique bunch, though, what can anyone do but smile and hope for the best?
Why Was It Passed Up?
The Doki Doki School Hours anime adaptation was a case of poor timing. Tamami Momose's original manga was pretty much the progenitor of the subgenre. The series invented countless tropes, character archetypes, and bits of design vocabulary that were revisited and reused in works like Azumanga Daioh and Pani Poni Dash.
Heck, it's still running today, and adding new elements to the school comedy genre that contemporaries continue to adopt.
Sadly, the manga series never hit North America. On top of this, Azumanga Daioh received an incredibly well-received anime adaptation in 2002. Doki Doki School Hours wouldn't be animated until 2004. When the series finally hit North American shores in 2005, it was regarded as a toned-down imitator to Azumanga Daioh by press and fans alike.
On top of this, Geneon launched the title in a very quiet release in November 2005, that was utterly drowned out by the competition. The début volume launched against 110 other releases, including the following:
GetBackers Volume 10
Hellsing (TV) [Geneon Signature Series] Volume 3
Ah! My Goddess (TV) Volume 2
Wolf's Rain Limited Edition Collection
Mahoromatic: Something More Beautiful Complete Collection
Cardcaptor Sakura Sakura Book Set (Volumes 10-18)
Fullmetal Alchemist Volume 6
Rurouni Kenshin Economy Box 1
Ghost in the Shell: Stand Alone Complex – 2nd Gig Volume 2
Neon Genesis Evangelion Platinum Edition (Complete Collection)
Samurai Champloo Volume 6
Chobits Boxed Set
Kimba The White Lion Complete Collection
This doesn't include countless notable B-Tier shows, including Kodocha, Mobile Suit Gundam SEED movie 3, and the Captain Tylor OVAs, mind you.
With the quiet launch, many that would have been interested didn't know the show existed. As a final nail in the coffin, the countless comparisons to Azumanga Daioh ensured that those who did find the show would probably be looking toward Azumanga for their dose of high school comedy.
Why This Show?
Fans today will likely see Doki Doki School Hours as offbeat, and somewhat trope-y in nature. There's a lot of familiar ground being tread that has likely been seen in shows like Azumanga, Daily Lives of High School Boys, and the like.
That said, though, this is a series that was a trailblazer. Like Seinfeld did for sitcoms, Doki Doki did for school comedies. It's a genuinely funny show, with lovable characters, and a sense of whimsy that just works.
The cast, while incredibly offbeat, have that tinge of humanity to them, that elevate the players beyond parodies and archetypes. They're offbeat, they're quirky, but there's something utterly believable about cast like Watabe the otaku, or the class president that fangirls openly over SMAP (remember: SMAP was a lot younger and hotter in 1997).
They're caricatures, for sure, but there's something about them that's utterly endearing, and welcome comparisons to the people in our own lives. On top of this, the show's jokes are legitimately funny, with great timing and a real working of the cast's eccentricities.
And, of course, I can't forget the show's ending, which is a fun, bouncy update of an '80s song that's almost as memorable as Maze's Junk Boy.
http://youtu.be/iKQPiRHYiM8
Closing Thoughts
I like to regard Doki Doki School Hours as one of my "hidden gems." It's a show that hit so far below the radar that people don't even know it exists. Seriously, even diehards will sometimes be hard-pressed to identify this one.
This really is a shame, as Doki Doki School Hours is one of those shows that's just a joy to watch.
The characters, the humor, even the art style all just work together to create something that's bright, cheery, and utterly wonderful. The jokes are funny, the cast is delightfully eccentric, and the plots themselves really just work. The series doesn't have that pang of sadness found in shows like Azumanga, or the utter insanity of, say, The Daily Lives of High School Boys, Lucky Star, or Pani Poni Dash. At the same time, though, it doesn't need this, either.
The show knows its strengths, and really plays to them, ensuring that every moment, from the first chords of the intro to the end of the credits, will leave viewers smiling.
Gallery