Here's one we can file under the "well that sucks" label. Shirobako episode 6, "Idepon Miyamori: On The Move", was pulled from streaming services across the world.
Japanese streaming service NicoNico announced that "streaming of Shirobako episode 6 has been temporarily suspended due to circumstances regarding rights." The site also noted that a return date is not set yet, though the site will announce the date when it becomes available.
Crunchyroll, which is streaming the series in the west, also pulled the episode. This is a recent removal as the series was streaming as of November 30.
Given the nature of the announcement, it's pretty clear that the objections are arising in regards to the not-too-subtle Densetsu Kyojin Ideon references scattered through the episode.
For those who haven't seen, the episode revolves around a dispute between key animator Ryosuke Endo and 3D director Yuichiro Shimoyanagi. Endo, having been insulted by a sudden shift from 2D effects to 3D effects, walks off the production. And, unfortunately, this leads to a situation where production reaches a standstill. Segawa, an industry vet, mentions that Endo was inspired to enter animation through Idepon, which leads Aoi (our charming lead) to invite him to an exhibition celebrating the series. At the exhibit, the two run into Shimoyanagi, who shares a similar adoration of the show, a few bonding moments happen, and the production appears to be saved. Well, for the time being.
The latter part of the episode is a pretty open love letter to Ideon, with countless lovingly drawn props, recreations of key frames, and even a background track that's incredibly close to an instrumental version of the Ideon theme song. Even the episode's Japanese title, "Idepon Miyamori: Hatsudō-hen", is a reference to the film Densetsu Kyojin Ideon: Hatsudō-hen.
And that's where the problems begin.
We don't have firm details on the situation, but we do know the following:
The episode was taken down due to "rights issues"
The series heavily references and (nearly) copies mecha designs from Sunrise's Ideon
Article 11 of Japanese copyright law protects content creators from derivative works. Unlike North America, there are no exceptions made for parody or homage, in this case. A strict reading of the law could easily see the Idepon segments as an unlawful derivative work, and a violation of Sunrise's copyrights.
Yes, this could change, as in 2012, it was reported that Japan is looking into parody exemptions. At the moment, though? It's fair game.
Sunrise has always been a fierce defender of its copyrights. The company's been a regular appearance in news feeds for ages now, cracking down on unlicensed toys, and derivative works.
And, as an industry watcher, I don't have much of a problem with this. For-profit entities are obligated to defend their rights to the fullest extent, due to shareholder pressure. In trademark law, the company needs to exercise their rights or lose them. So, to maintain their control over their brand, Sunrise enforces their property rights to the fullest, while maintaining an active presence with products on the market.
That said, I have to admit that this specific instance brings up a few questions. Namely, "why was this not an issue for close to three weeks after the initial airing", and "What could have led to these events?"
And, unfortunately, there are no real answers at this point. We don't have much to go on, and speculation will only bring about conspiracy theories. All we really can do right now is hope that this was some misunderstanding, or that an agreement lost in the shuffle, and that the episode will return to the airwaves (mostly) unscathed.
If this isn't the case, though, then I can only wonder how things will change for the coming DVD & Blu-Ray releases of the show.
Edit, 12/3/2014
Reader Cytrus pointed out that this could actually be due to a smaller scene in the show. In a subplot for the episode, struggling voice actress Shizuka tries to cope with botching an audition. Through a stroke of fate, she meets with her instructor, which leads to the two talking about theatrical acting. After which, Shizuka attends a performance of her mentor's production of Waiting for Godot, Upon seeing this, Shizuka realizes that she may like stage acting as much as voice acting.
The choice of play was meant to show how those who wait for the industry to change are simply waiting for an illusion, much like those in the play. It was a moment of growth for the character, but this could also create a few sticky legal situations that we hadn't accounted for. Waiting for Godot still has seven years remaining before it hits the public domain. If due diligence were done on this, it could also serve as the impetus for the "rights issue" specified.
At this point, though, all we can really do is wait to see how things progress going forward.
Thanks for Cytrus for pointing this out!
Update: 12/19/2014
Episode 6 has been restored to Crunchyroll and NicoNico. The Idepon sequence wasn't altered, which many will see as a relief. However, what was changed was the brief Waiting for Godot segment that hit about 11 minutes into the episode.
The dialogue for the scene was hastily re-recorded, with slightly different wording and inflection, while making attempts to capture the same impact of Samuel Beckett's original work. Unfortunately, it doesn't quite hit that mark. But, such is the world of copyright. The play isn't in Japan's public domain at this point, so the alteration needed to be made.
I'll gladly admit that I was incorrect on this matter.
And, while it is good that it was the smaller of two scenes that needed a change, it really is a shame to see that the studio hadn't done due diligence on the play to clear rights where needed, if they even could be cleared.
Beckett was notorious in his objections to female actors in the play, to the point that he (and later his estate) made legal challenges to productions using actresses in the work. These continue to this day, though courts have begun to rule against the Beckett estate.
The scene's original form was powerful, and gave a real glimpse into Shizuka's growth as a character, and the Waiting for Godot parallels were a perfect parallel to her experiences in life.  And, while the new dialogue works, it does remove some of that original impact.
Below, we've collected the subtitles of the original scene, versus the newly recorded bit.
Original: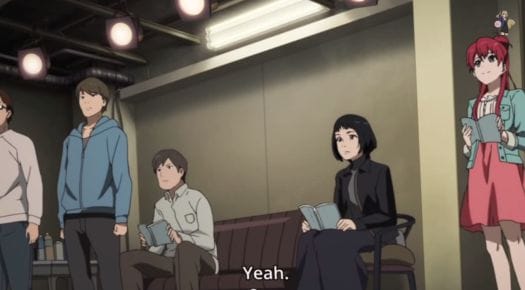 Revised: