Earlier today, Toho announced that Mamoru Hosoda's next film is in production. The film, titled Bakemono no Ko (The Boy and the Beast), is slated to hit Japanese theaters on July 11, 2015. International distribution will be handled by French film studio Gaumont.
Bakemono no Ko is based on an original story by Hosoda, that revolves around an alternative version of Shibuya. In this universe, the world is divided into two realms: the human world, and Jutengai: a realm of beasts.
One day, a human boy stumbles into the world of the beasts, where he encounters Kumatetsu, a bear-like swordsman with surprisingly snappy fashion sense. The lad begins training under Kumatetsu as an apprentice, and earns the name Kyuta from his master. Together, Kumatetsu and Kyuta train and travel, on an adventure that few will forget.
The project entered pre-production in September 2012, shortly after Wolf Children's release. A plot wouldn't begin to form until over a year later, though. Hosoda began work on the screenplay in October 2013. Character design work began two months later, in December. The first real update on the project came in March, when Hosoda tweeted a simple "Storyboard is done."
Takaaki Yamashita and Tatsuzo Nishida are working on the project as animation directors, while art direction will be handled by the team of Takashi Ohmori, Yohei Takamatsu, and Yoichi Nishikawa. The soundtrack will be scored by Wolf Children composer Masaketsu Takagi.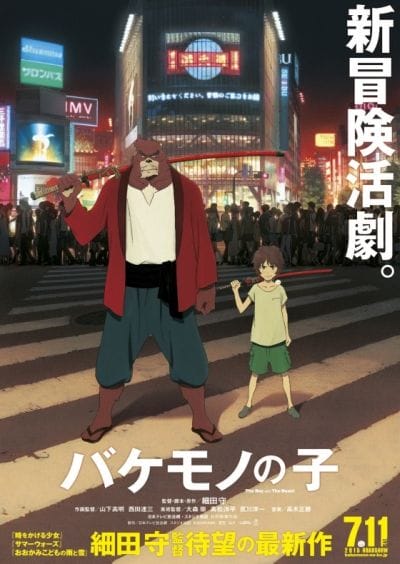 With the details out of the way, I'm going to say that this will be something to look forward to.
Hosoda's films, from The Girl Who Leapt Through Time to Wolf Children are truly special experiences, that reach out to film fans of all stripes.His films are memorable experiences that instill viewers with that simple, refreshing a sense of wonder and enjoyment.
He's proven time and time again that his skills as a director and a storyteller stand head and shoulders above so many in the field today. And, hopefully, he'll be able to conjure that magic once again with Bakemono no Ko, when it hits next July.