Who's ready for more Haruhi?
Last Thursday, the official Haruhi website, haruhi.tv, "disappeared". Earlier today, the site returned, hosting the first key image from the upcoming The Disappearance of Nagato Yuki-chan.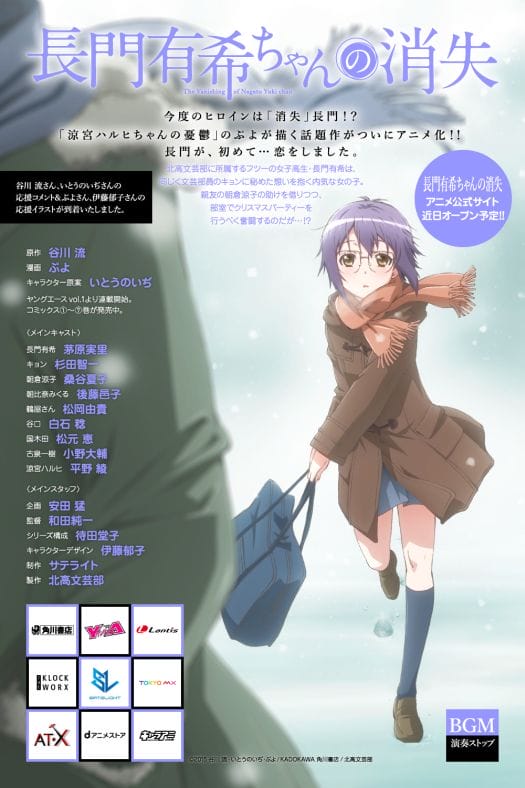 According to the image, the full site will open in a few days, though there is a confirmation that the show will air in 2015.
The teaser also includes a partial cast and crew listing. The Disappearance of Nagato Yuki-chan will be directed by Jun'ichi Wada, with character designs by Ikuko Ito (Princess Tutu, Magic User's Club). Touko Machida (Lucky Star) will handle series composition at Satelight (Hellsing Ultimate), and Takeshi Yasuda (The Melancholy of Haruhi Suzumiya) will serve as planner.
The voice cast will see several members returning from The Melancholy of Haruhi Suzumiya, including the following:
Yuki Nagato: Minori Chihara
Kyon: Tomokazu Sugita
Ryoko Asakura: Natsuko Kuwatani
Mikuru Asahina: Yuko Goto
Tsuruya-san: Yuki Matsuoka
Taniguchi: Minoru Shiraishi
Kunikida: Megumi Matsumoto
Itsuki Koizumi: Daisuke Ono
Haruhi Suzumiya: Aya Hirano
Exactly a year ago, we received the first real tease about the Disappearance of Nagato Yuki-chan anime series. The reveal was done in the form of a viral tease, which was delivered in cooperation with cell phone maker DoCoMo.
It's good to finally see some information hitting, since we've had complete radio silence in the past year. With a confirmation of a 2015 air date, I wouldn't be shocked to see a steady stream of information kick up in the coming weeks.
That said, though, given the franchise's adoration of guerrilla marketing and offbeat promotional methods, I'm genuinely interested in seeing how the show will be marketed in the run-up to air time. Events like games, mysteries, and even the frustrating scavenger hunts have always played on the sheer curiosity of humanity as a whole, while bringing thousands of people together to achieve a goal.
For many, the build-up to a Haruhi release, to that air date, becomes as much of an experience as the show itself. Part of the fun becomes deciphering the cryptic codes and crazy hints that get dropped on the website.
Hopefully, as the air date grows nearer, we'll see that Nagato Yuki-chan becomes another proud entry to this tradition. If not, then I wouldn't be shocked to hear a few people musing that something was "missing" this time around.
Update: 12/18/2014
Earlier today, Haruhi voice actress Aya Hirano revealed a bit more information. In a tweet, the actress announced that she would reprise her role as Haruhi in the series, which is pegged for a Spring 2015 premiere.
【アニメ出演情報】
来春放送の新番組「長門有希ちゃんの消失」に涼宮ハルヒ役で出演します。

— 平野綾オフィシャルインフォ (@Hysteric_Barbie) December 18, 2014
Translation: [Anime Appearance Information]: I'll be playing as Haruhi in the new program "The Disappearance of Nagato Yuki-chan", which broadcasts next spring.
In addition, advertisements for the series are starting to pop up. Twitter user honya_akiba posted an image of a billboard that went up in Akihabara: