It's the holiday season, everybody! And, with the holidays, comes gifts.
And, well, as an anime fan, I know our group isn't always the easiest to buy for. There's a lot out there, from shows, to games, to merchandise, and everything else on the market. Over 40 new shows air every season, and just as many DVDs and Blu-Ray hit store shelves every single month on our side of the pond. At the same time, though, you want to get something that will make your special anime fan smile.
That's where we come in.
In this year's holiday gift guide, we'd like to offer ideas that cover all of the bases, whether you're looking for something fun, a new favorite show, or a practical accessory. We're going to give you the ABC's of getting that perfect gift, while tossing a few of our own recommendations in, to help things out a bit.
Disclaimer: Before buying anything based on specific titles, though, be sure you know (or can find out) what shows the recipient likes. Everyone's tastes are different, and there's, quite literally, something for everyone out there. So, keep this in mind as we go through the recommendations.
Practical Things
Practical gifts are always a safe bet. Mind you, we're not talking socks, bus passes, or phone cards (these have all been seriously suggested by bloggers at some point). We're in the business of fun.
There's always going to be someone who needs that one item to tie their experience together, or to make that final jump into the HD world. And, really, that's where we come in. The following gifts are practical, they have a number of uses, and they'll certainly make any fan's life just a tiny bit more amazing.
For Streaming Fans: In this modern day, more and more people are consuming their internet via streaming services. New shows are airing nearly day and date with their Japanese counterparts on services like Crunchyroll or FUNimation. At the same time, more popular and respected shows are finding their way to Hulu, Netflix, and even Crackle.
And, unless you're packing a media center PC, most people are going to be watching a majority of their anime on tablets, notebooks, or PC screens. Crunchyroll and FUNimation haven't quite penetrated that market.
To fill the gap, though, there's been an increasingly competitive market for streaming boxes and, more recently, streaming sticks. The two biggest competitors at this point are the Roku Streaming Stick, and Google's Chromecast.
Both the Roku and Chromecast are fairly similar at the outset. They both give fans an array of apps and streaming options, from HBO Go to Netflix, to popular anime services like Crunchyroll and FUNimation. They both plug into the HDMI port, and work almost seamlessly in the background.
The difference, though, is in the execution. The Roku is self-contained. It has its own channel store, its own library of apps, and its own remote. In a lot of ways, the presentation isn't too far removed from that of a cable box. The menus are straightforward and simple, and the experience centers on the TV.
Chromecast, on the other hand, is a bit different. It uses your smart phone as the basis of interaction, and works within existing apps to push to the TV. For example, one would watch a video by navigating to the video and hitting a "Chromecast" icon on the video, which then allows the video to stream on TV. It's a unique approach that really embraces the inclusive "one world, one experience" atmosphere that Google champions.
Both devices have their pros and cons, though it's not hard to really recommend either to a potential buyer.
Roku Streaming Stick: Retail price $49.99; Buy It At Best Buy
Google Chromecast: Retail Price $35.00; Buy It At Best Buy
For the Audiophile: A good set of headphones is something that's truly appreciated by a number of audio fanatics. The good, solid bass and crisp audio of that perfect set is something that will be loved and appreciated for many years to come.
We're going to be highlighting two pairs: One for under $50, and one for under $200.
Under $50: Don't let the lack of a brand name fool you. Monoprice's Premium Hi-Fi DJ Style Over-the-Ear Pro Headphones are, without a doubt, the one of the best buys in headphones in the sub-$50 market. The low price and fairly basic packaging hide a truly fantastic sound experience. The headphones themselves are comfortable, with a detachable cord. The audio range is surprisingly wide, delivering clean highs and big, bassy lows that simply shouldn't exist in a $25 pair of headphones.
They're such a strong set, that at least one member of the Nerdy Talk podcast uses them (and swears by them) for recording and editing.
Under $200: The Sennheiser Momentum on-ear headphones, while a bit pricey, are definitely worth the cost. They're sleek, comfortable, and wonderfully light, leading to a comfortable feel. The sturdy design ensures a long life time and a great resistance to being bounced and bumped around in a bag or backpack, and the sound quality is simply to die for. With a beautiful range that can capture even subtle choral sections on delicate a capella pieces, and really bring out the true color of an audio performance.
Monoprice Premium Hi-Fi DJ Style Over-the-Ear Pro Headphones: Retail Price: $23.98; Buy It At Monoprice
Sennheiser Momentum On-Ear: Retail Price: $199.99; Buy It At Best Buy
Blu-Ray Players: In our first gift guide, we mentioned that DVD was king of the home video market. Nowadays, Blu-Ray has taken that crown. That means, for the physical media buyer, a Blu-Ray player is a must.
Blu-Ray's advantages over DVD are numerous, from HD video and improved audio quality, to cleaner menus, to a greater disc capacity that allows for more (and more innovative) bonus features.
In recent years, players have gone down sharply in price, with entry-level players available for as low as $30. However, that also means that there's a wide range in quality.
Our top pick for the year is the Samsung BD-H6500. Praised by CNet as an Editor's Pick, the player is one of the fastest on the market. The player supports all major formats, including Blu-Ray (standard and 3D), DVD, and CD, with 4K upscaling for folks with a capable set. The built-in wi-fi and app selection offer quick access to streaming services like YouTube and DailyMotion, as well as Facebook and Google Picasa libraries.
For those looking for something a bit more budget-friendly, we recommend the LG BP540. The player was cited as a pick on The Wirecutter and well received among customers, citing the speed and range of supported formats. While the retail price is $129.99, it can commonly be found under the $100 mark.
Samsung BD-H6500: Retail Price: $129.99; Buy It At Best Buy
LG BP540: Retail Price: $129.99; Buy It At Best Buy
Gift Cards: Who doesn't love gift cards? They're easy, convenient, and it's hard to really give the wrong thing when someone can pick it out.
Rather than go into some long-winded explanation, we're just going to list a few of the more popular locations:
The Fun Stuff
For those looking for something a bit more on the entertainment side of things, we've got you covered.
For Gamers
There are a number of fantastic anime-inspired games on the market, nowadays, that would be proud addition to any fan's collection. We'll be taking a look at a few key picks, which span both consoles and PC.
Steins;Gate: This PC visual novel is the direct inspiration for the hit anime series. The game revolves around Okabe Rintaro, an eccentric self-proclaimed scientist that discovers the secrets of time travel. Specifically, Okabe and his motley crew of colleagues discover a way to send messages into the past, using a microwave oven and a cell phone.
In doing so, though, he also discovers that whatever he changes in the past, has repercussions in the present. He's plunged into a world of conspiracy and intrigue, as time lines shift, and the very push of a button can alter the flow of history itself.
Steins;Gate is an amazing story, delivered beautifully with gorgeous art and dialogue. Fans of sci-fi and intricate storytelling will eat this one up and ask for more.
Steins;Gate (PC): Retail Price: $29.95; Buy It At Right Stuf
Guilty Gear Xrd – SIGN: Guilty Gear is the latest in the long-running Guilty Gear franchise. It's earned a cult following with fighting fans, who've praised its gorgeous animation, colorful cast, tight controls, and outstanding soundtrack. Unfortunately, it seemed as if the title would just fade into history, as the series took a break in 2008, after the release of Guilty Gear XX Accent Core PLUS (say that ten times fast!).
With Guilty Gear Xrd – SIGN proved fans wrong, though. The game is a total revamp of the franchise, with a gorgeous new visual style, that brings elements to the third dimension while maintaining that "ripped from an anime series" visual vibe. The controls are as tight and fluid as ever, and the music just plain rocks. It's a fantastic return to the series, and a great place for new fans to jump into the fun!
Guilty Gear Xrd – SIGN is available on both PlayStation 3 and PlayStation 4.
Guilty Gear Xrd – SIGN (PS3 Edition): Retail Price: $49.99; Buy It At Amazon
Guilty Gear Xrd – SIGN (PS4 Edition): Retail Price: $59.99; Buy It At Amazon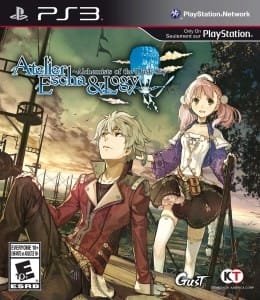 Atelier Escha & Logy ~Alchemists of the Dusk Sky~: Atelier Escha & Logy ~Alchemists of the Dusk Sky~ is the latest installment of the popular role-playing series from Gust. The series offers two distinct stories, set in a fantastic world, where a catastrophic event known only as "The Dusk" hit not too long ago.
That's where you come in.
The player takes control of a new state alchemist, Escha or Logy, who is tasked with discovering the cause of the Dusk. At the same time, though, the people have tasks that need to be taken care of, be it finding cooking ingredients or clearing a monster-filled dungeon, and there's only one alchemist that can do it!
The game's real draw is its alchemy system, which allows players to make pretty much anything they'll need on the road, from weapons, to healing items. The battles are fun and fast-paced, the characters are charming, and the world is legitimately fun to explore. It's a fantastic RPG for those who will delight fans of all stripes.
Atelier Atelier Escha & Logy ~Alchemists of the Dusk Sky~ (PS3 Exclusive): Retail Price: $39.99; Buy It At Amazon
For Non-Gamers
There are a fun, cool, and outright neat gifts that may not necessarily come to mind when discussing what to buy for anime fans. However, these gifts will be sure to delight even the most jaded of fans.
Channel A: The Anime Pitch Party Game: Who hasn't had an idea for their own original anime show? Channel A allows fans to really cut loose, and tap that inner desire. Much like Apples to Apples, fans are given a stack of cards, which corresponds to words in a show title. The dealer plays up to 4 "Subject" cards, and the players have to make a title and describe it using any number of their cards.
It's addictive, it's silly, and it's a hell of a lot of fun!
Channel A: The Anime Pitch Party Game: Retail Price: $24.99; Buy It At Amazon
Otaku Journalism: A Guide to Geek Reporting in the Digital Age: Has your fan ever wanted to really take it one step deeper? Cover anime conventions, interview the creators they've adored, and maybe even get paid for it?
Well, Lauren Orsini of Otaku Journalist has you covered.
In her book, Otaku Journalism: A Guide to Geek Reporting in the Digital Age, Orsini lays the groundwork toward making these fan dreams into a reality. She covers specific topics about the subculture, and the basics of journalism, from beat work to ethics, and delivers this in a way that's both easy and fun to read. Her points are clear and concise, and her writing is one that speaks directly to the reader.
As someone who's been writing for the past 14 years, now, I have nothing but nice things to say about this book. It goes over a lot of things that a lot of us long-timers had to learn the hard way. Seriously, if your fan is even thinking of getting into anime writing, this is for them.
Otaku Journalism: A Guide to Geek Reporting in the Digital Age: Retail Price: $2.99; Buy It At Amazon
Got Anime?: If your fan buys a lot of anime, then this may be for them. Right Stuf's "Got Anime?" club is one of the best deals in anime today, as it knocks 10% off most items for sale at Right Stuf's online store. This adds up quickly, and that $12 membership can quickly be worth two, three, even five times as much, depending on how much one buys.
To sweeten the pot, Right Stuf and Viz Media have partnered to offer a package deal. For $25.99, one can get a year of Got Anime? and a year's subscription to Viz Media's Weekly Shonen Jump magazine. It's a great deal, that would be appreciated by many fans.
Got Anime? Membership: Price: $12.00; Buy It At Right Stuf
Got Anime? Membership with Shonen Jump Subscription: Price: $25.99; Buy It At Right Stuf
Art Books: Yeah, I don't exactly have a fancy term for these. Art books are basically collections of artwork from an anime series or artist. These can be in full color, black and white, or some mix of the two, and they are simply packed with gorgeous illustrations of pretty much any show available on the market. The price on these tends to vary, due to the fact that demand and scarcity, though the average price ranges between $25 and $50. These will require a bit more research on your part, as, again, just about every title on the market has an art book available.
Art books can be found at most popular anime retailers, which include Right Stuf and Robert's Anime Corner Store.
Anime Shows
You had to expect this, at some point! What good is an anime gift guide without anime, right? Below, we've gathered a number of our picks and favorites.
Mind you, that it's tricky to really make specific recommendations, and we again recommend you find out what your fan enjoys before picking any specific shows up.
Attack on Titan: Attack on Titan is pretty much the gold standard for anime, right now. It's the most popular show in ages, and one of the best received by fans and critics alike. It's violent, it's gory, and it's definitely not for kids.
But man is it good!
The premise can be boiled down to the description of "It's about giant people who eat smaller people, while the smaller people try to fight back." And, well, it sticks to that. While this seems simple, it's but one piece of a truly epic whole. The world, the characters, and the very idea that humans could face such horrors, are delivered with an impeccable hand, that just brings everything together to an experience like nothing else.
Attack on Titan, Part 1: Retail Price: $49.98; Buy It At Right Stuf
Attack on Titan, Part 2: Retail Price: $49.98; Buy It At Right Stuf
Angel Beats!:
Angel Beats is one of those bittersweet shows, that really knows how to hit viewers where it counts. Both tragic and hilarious, it's a show set in a surreal purgatory where a mysterious Angel is trying to pull its residents to… somewhere. So, what's a dead person to do?
Well, in the case of the Not Yet Dead Battlefront, you grab any weapon available and fight back til the very end! Again!
From Seth Burn:
Angel Beats had been recommended to me. It took me a while to warm up to it and figure out what was going on. Once I did, though, the payoff was tremendous. Perhaps the most bittersweet anime I've yet to encounter.
Angel Beats! Complete Collection: Retail Price: $69.98; Buy It At Right Stuf
Sailor Moon: What more can I really say about this one? Sailor Moon is a series that defined a generation of anime fans! The 1992 classic was a series that defined the modern magical girl genre. It introduced the basic structure of the genre today, as well as countless clichés, tropes.
But it's also a heck of a lot of fun to watch.
The series, which revolves around Usagi Tsukino, is genuinely charming. The characters are charismatic and lively, be it heroines like Usagi, Rei, and Minako, or villains like Queen Beryl and Jadeite. The humor is genuinely funny, and the plot, while straight-forward, is paced well. Really, Sailor Moon is one of those rare shows that never fails to find that perfect moment to tug at the heartstrings, or just rip it out entirely.
For many years, Sailor Moon was unavailable in North America due to license restrictions. That all changed this year, though, when Viz Media was able to bring it back to stores (and Hulu).
Sailor Moon Blu-ray/DVD Set 1: Retail Price: $69.99; Buy it At Right Stuf
FLCL: FLCL is often praised as a masterpiece by legendary studio Gainax. The six-episode series revolves around Naota, a sixth grader that's suffering from those early pangs of puberty. His quiet life is forever changed, though, when Haruko, a mysterious vespa riding maiden, runs Naoto over and brains him with a bass guitar.
From that way on, a horn grows from Naota's forehead. Well, not really a horn, but gigantic robots that begin to come forth at awkward moments, and… well… things get a bit crazy at that point!
From Seth Burn:
This was the show that got me into anime. It's weird and highly polarizing. My advice to you is simply take it at face value, and enjoy the ride. FLCL is possible the universe I'd love to revisit the most.
FLCL: Complete Collection (DVD): Retail Price: $39.98; Buy It At Right Stuf
FLCL: Complete Collection (Blu-Ray): Retail Price: $44.98; Buy It At Right Stuf
Cowboy Bebop: Cowboy Bebop is another one of those shows that defined a generation. It's a sci-fi action show that revolves around a motley crew of bounty hunters, who travel aboard the Bebop. Each episode presents a new adventure that ranges from the absurd, like an Alien-inspired face-off with a fridge monster, to the utterly heart wrenching.
This is one that won viewers over with fantastic characters strong writing, and one hell of a soundtrack. The visual design is wonderful, and the animation is silky smooth, making the show a joy to look at even today.
This is one that belongs in every fan's collection. FUNimation's recent release, which features gorgeous remastered video and 5.1 audio, is possibly the best way to enjoy the series, so there is no excuse for missing out!
Cowboy Bebop: Complete Collection: Retail Price: $59.98; Buy It At Right Stuf
Redline: Redline is one of those titles that only comes around once in a half-decade. The film is a cross between sci-fi and auto racing, that focuses on Sweet JP, a troubled racer who had gone to prison for being involved with the mob. His one goal in life is to reach the greatest auto race in the universe, "Redline", and win with a clean finish.
That said, though, it's going to be a tough ride, with the other racers out for blood and the government of the race's host planet ready to destroy anyone in its way.
It's over-the-top, it's gorgeous, it's Redline.
From Seth Burn:
Redline was a labor of love, done whenever the animators had the time and money. There has never been anything quite like it before or since. The sheer number of shows that have paid homage to it (most recently, Space Dandy) is a testament to its respect in the field.
Redline (Blu-Ray): Retail Price: $19.98; Buy It At Right Stuf
Redline (DVD): Retail Price: $14.98; Buy It At Right Stuf
Steins;Gate: This is the anime adaptation of the popular PC game. The series revolves around Okabe Rintaro, a self-proclaimed mad scientist that believes a shadowy organization is trying to shape the world to its own whims. Okabe and his friend Haru accidentally discover the secrets of time travel. Specfically, they find a way to send messages into the past using a microwave oven and a cell phone.
In doing so, though, he also discovers that whatever he changes in the past, has repercussions in the present. He's plunged into a world of conspiracy and intrigue, as time lines shift, and the very push of a button can alter the flow of history itself. Now, he has to figure out how to right his wrongs, and bring things as close to "normal" as humanly possible.
Steins;Gate is a brilliant series, with just the right amount of humor and drama. The animation is gorgoeous, and the plot is told wonderfully. It's a gripping tale that will have fans begging for more, as episode after episode just flies by.
Steins;Gate DVD/Blu-ray Complete Series: Retail Price: $54.98; Buy It At Right Stuf