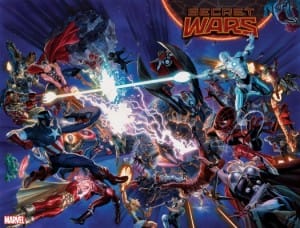 Earlier today, Marvel Comics announced that they will include the Attack on Avengers crossover comic in their 2015 Free Comic Book Day lineup. The story will be a part of the inaugural issue (#0) of Secret Wars.
Attack on Avengers was a "What If" story that pitted Marvel's Avengers and Guardians of the Galaxy properties against the Female Titan, who somehow found her way to the streets of New York. It was originally published in Japanese publication Brutus on November 15.
The announcement is a curious one, that many seem to be dismissing a bit quickly. Most have been homing in the fact that this is a Free Comic Book Day entry, which is pretty damn awesome. However, what's more intriguing is that this will apparently be part of the first issue of Secret Wars. Marvel has, at least in recent years, used Free Comic Book Day as a springboard for their latest major title or story arc. In 2012, it was Jonathan Hickman and Jim Cheung's Infinity, which kicked off a major multi-franchise story arc. Last year, it was the re-launch of Guardians of the Galaxy after a hugely successful movie run.
Secret Wars is a continuation of Jonathan Hickman's long-running Avengers storyline that sees the apocalyptic come to life, as the Standard and Ultimate universes collide with one another to forever reshape the landscape of Marvel Comics going forward. It will kick off an eight-issue series, and will undoubtedly be the book to own of the day.
To see Attack on Avengers get bundled into this is pretty amazing. It's a book that will get massive penetration among comic fans, both devoted and otherwise. It's certainly not the greatest of storylines, but the Avengers angle could help to piqué the curiosity of a few new readers.