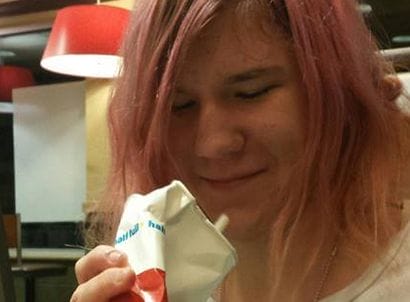 Teenager Ashley Lane was reported as missing to local authorities over the weekend. She is fifteen years old and reported to be roughly six feet tall, with a slender build, brown eyes, and magenta-colored hair. Lane was last seen on Saturday, as she left her room at the Hampton Inn and Suites to head to the Convention Center to attend a dance party that was being held from 10:00PM until 2:30AM.
Lane is 15 years old. She was last seen wearing ballet shoes, nylon stockings, and a short black and white dress. In addition, she was wearing a red Ohayocon wristband with the number "06738".
Ashley is transgendered, and currently has the legal name of "Ray."
Last night, NBC 4 ran the following news piece about the incident:
Anybody who has information on Ashley Lane's whereabouts after 10:00PM that evening are asked to call the Columbus Police Department at (614) 645-4545, or to dial 911 and ask for the Columbus Police Department.
Source: Anime News Network
UPDATE 2/3/2015: Ashley Lane was found safe in downtown Columbus, Ohio earlier today. Police are currently speaking with Lane to learn more about her disappearance over the weekend.
Source: Anime News Network