What started as a simple key art leak has blossomed into a fantastic announcement.
Last night, we reported that a key visual for a promotion between Pizza Hut and Kantai Collection (KanColle) leaked online.
In the hours that followed, Pizza Hut announced the full details of the promotion, which kicks off on February 23.
Customers who order a Medium pizza will receive a clear file that uses the new key art, which features Akatsuki, Hibiki, Ikazuchi and Inazuma chowing down on Pizza Hut pizza.
In addition, the pizza box will be presented in a sleeve with the same artwork.
Those who order online will be entered into a drawing for limited-edition KanColle goods.
Pizza Hut will offer a second clear file design on March 16, though they haven't released the final artwork yet.
To celebrate this cross-promotion, Tokyo's Kanda store is receiving a KanColle makeover. The shutters, and even the delivery scooters are being decked out in KanColle decals.
Customers who order at the Kanda location will receive a special sticker card that features Shimakaze.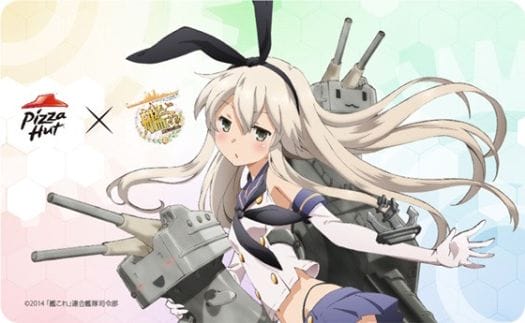 As with all promotions, the limited-edition goodies will only be offered while supplies last.
Source: Crunchyroll