Project Name: Bloodline: The Animated Series
End Date: 3/27/2015
Goal: $75,000
What Is It?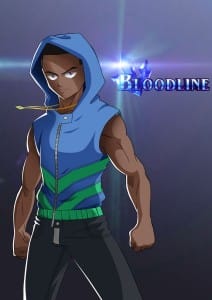 Bloodline: The Animated Series is an original animated series by Visionary Outlook, LLC. The series is based on a concept by Alphonso Blackwood. The animation will be handled by Powerhouse Animation (Looney Tunes, Clerks), and feature voice work by Nathan Smith.
In addition, a 2D fighting game based on the property is in the works, which is expected to launch by the time the animated feature hits.
Bloodline is set in on the planet Hopeskin, a peaceful world which is thrown into turmoil. The ruler of the planet's largest kingdom is stricken ill by a mysterious disease. With the king incapacitated and his family scattered among the cosmos, interlopers begin to make an attempt at the throne for the first in over three millennia.
Sensing danger, the hunt begins for the missing members of the royal family. Their time runs short and their options low, leading the remaining members of the Royal Circle to resort to dangerous and forbidden rituals to achieve their goals.
Zeinshaw Rollin is a typical high school student on Earth. In his life, he's never known about the planet Hopeskin, nor did he need to. Zeinshaw's life forever changes one day, though, when a mysterious man known only as Eagle of Hopeskin comes to him. Zeinshaw is the strongest of the royal bloodline, and must awaken the power within to ensure the lives of many remain safe.
Notable Reward Tiers
$20: Autographed thank-you card; Signed poster; Digital copy of Bloodline: The Animated Series
$40: Early Access to Bloodline Video Game; All $20 Rewards
$100: DVD or Blu-Ray edition of Bloodline: The Animated Series, Weekly Updates; All $40 Rewards
$250: Two Tickets to New York première of Bloodline: The Animated Series, Sweatshirt, Art Book; All $100 Rewards
$500: Backer added as a character in group photo in art book; All $250 Rewards
$1,000: Backer added as a character in the series; All $500 Rewards
$10,000: Backer added as permanent character; All previous rewards
Why Profile This Title?
Visionary Outlook, LLC actually held a previous KickStarter drive for Bloodline
In the current drive, Visionary Outlook has tweaked and polished its presentation, and clarified more lacking elements from the previous run. Visual elements were cleaned up, and plot details were given a bit more detail. The costs of production were clarified, and a definite, firm description of what $75,000 pays for was defined.
The company's already hard at work lining up talent to produce the feature, which is always encouraging. Powerhouse is a talented studio with an impressive lineup of titles under its belt.
I'm still a bit skeptical that the video game needs to be a part of the initial scope. Removing this could help to bring costs down, and show potential backers that the organization knows where to focus its priorities.
Likewise, December 2015 is an overly optomistic delivery date for the animated feature, as we've seen with numerous projects in the past. And, given that this will be a dual-tier development, with animation and game likely being produced simultaneously, the group would probably benefit with a mid-2016 ship date for the finished project.
Still, I have to admit that it's a project with ambition. I can't help but respect an entrepreneur that aims to build a world, fill it with colorful characters, and let people just play around in it, in some form or another. Concepts like "characterized social networking" are intriguing at face value and, if handled correctly, could really help to strengthen the core product.
Intro Video
Gallery