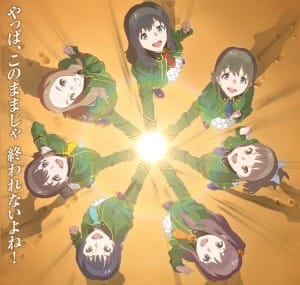 It looks like it's time for Wake Up, Girls! to wake up once more.
Earlier today, at the Wake Up, Girls! Fanclub Opening Celebration Meeting, the show's cast announced that a sequel project is in production. A pair of films, tentatively titled Wake Up, Girls! Zoku Gekijōban (Wake Up, Girls! Continuation Movie) will continue the story set by the previous film and anime series.
The first film will hit Japanese box offices this September 2015, while the second will première in December.
The TV series' cast will return for the film. Yutaka Yamamoto (Fractale, Senyū) will be back in the director's chair for the series at Ordet, with Sunao Chikaoka (Wake Up, Girls!, Kyo no Gononi) serving as character designer and animation director. Scripts will be handled by Touko Machida (Wake Up, Girls!, Lucky Star).
Satoru Kousaki (Bakemonogatari, The Melancholy of Haruhi Suzumiya) will return to compose the films' soundtracks, while DIVE||entertainment will produce the films' sound. The entire cast for the show's leading ladies will also return to reprise their roles.
While this is the first time we've received details on the films, it's certainly not the first time a project has been hinted at. A teaser trailer for a Wake Up, Girls! project hit the web in December 2014.
Source: Anime News Network, Crunchyroll