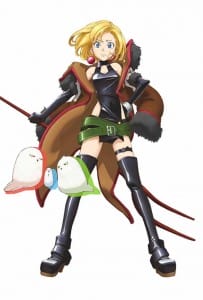 Guaranteed to be better than Virgin Fleet!
Earlier today, FUNimation announced the English dub cast for Maria the Virgin Witch. The series, which makes its dub début on Sunday at 10:30 Eastern, is part of the second wave of FUNimation's Broadcast Dubs for the current season.
The cast list is as follows:
Maria: Alexis Tipton
Artemis: Whitney Rodgers
Priapus: Jerry Jewell
Ezekiel: Leah Clark
Joseph: Austin Tindle
Ann: Lara Woodhull
Bernard: Sonny Strait
Michael: Caitlin Glass
Galfa: Chris Rager
Sonny Strait will direct the dub, with Matt Grounds serving as Lead ADR Engineer. Jose Sandoval will fill the role of the assistant ADR Engineer.
Nobuaki Taguchi will translate the series, while Patrick Seitz will handle the show's English scripts.