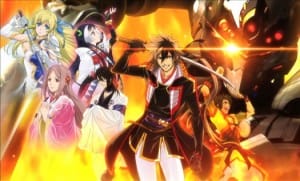 Foolish? Far from it!
Earlier today, Sentai Filmworks announced the English dub cast list for Nobunaga the Fool. The series, which is currently streaming on Crunchyroll, The Anime Network, and Hulu, began airing in January 2014.
The cast list is as follows:
Nobunaga Oda: Scott Gibbs
Joan Kaguya d'Arc: Juliet Simmons
Akechi Mitsuhide: Mike Yager
Toyotomi Hideyoshi: Greg Ayres
Leonardo Da Vinci: David Wald
Ichihime: Luci Christian
Himiko: Krystal LaPorte
Nobuhide Oda: Luis Galindo
Nobukatsu Oda: Gabriel Regojo
Takeda Shingen: Rob Mungel
Kenshin Uesugi: Clint Bickham
Chacha: Katelyn Barr
Hatsu: Sara Ornelas
Gou: Brittany Djie
King Arthur: Leraldo Anzaldua
Alexander: Josh Morrison
Gaius Julius Caesar: Houston Hayes
Brutus: Jonathan Gonzalez
Cesare Borgia: David Matranga
Charlemagne: Jay Hickman
Hannibal Barca: Allison Sumrall
Niccolo Machiavelli: Carli Mosier
Chadra Gupta: Robert Meek
Magellan: Mark X Laskowski
Narrator: Winter Wallace
Nobunaga The Fool's dub will be directed by Chris Ayres (Night Raid 1931, Phi-Brain). The series will ship to retailers in across two sets, with the first hitting on April 28.
Source: Sentai Filmworks