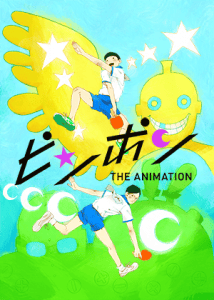 The game of ping pong is not to be taken lightly.
Earlier today, FUNimation announced the English dub cast for Ping Pong The Animation. As of press time, FUNimation hasn't whether the series will make its dub début via streaming, or in the upcoming physical release.
The cast list is as follows:
Yutaka Hoshino/Peco: Aaron Dismuke
Makoto Tsukimoto/Smile: Micah Solusod
Jo Koizumi/Butterfly Joe: Mark Stoddard
Ryuichi Kazama/Dragon: Marcus D. Stimac
Manabu Sakuma/Demon- Anthony Bowling
Kong Wenge/China: Alan Chow
Ota: Tyson Rinehart
Masayuki Sanada: Ian Sinclair
Shuji Nekota: Clifford Chapin
Yurie: Lindsay Seidel
Egami: Eric Vale
Michio: Jeremy Inman
Christopher Bevins will direct the dub, with Alyssa Galindo serving as lead ADR engineer.
Ping Pong The Animation will hit Blu-Ray and DVD on June 23, 2015. A preview trailer was posted to FUNimation's YouTube channel earlier today:
Source: FUNimation Blog