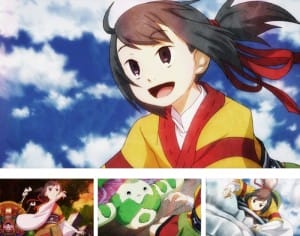 Earlier today, Kenji Studio officially launched their Kickstarter campaign for Coluboccoro.
The Kickstarter drive, which runs through April 30, 2015, has a funding goal of $38,000.
Funding rewards for Coluboccoro will include:
Coluboccoro on DVD, Blu-Ray, and digital download
Signed Artbook
Unreleased Footage with Director's Commentary
Art Prints
There are three limited-time goals:
Eight people who kick in $1,000 will receive a supervisor credit
One person who pitches in $2,000 will receive a producer credit
One person who funds $5,000 will receive an executive producer credit, and his/her likeness in the film
A trailer for the project's been avaialble via streaming outlets since March 24:
The film's official synopsis is as follows:
It is a time not of the now. At the birthplace of culture and religion. Where science has evolved amongst a gathering of races and people both high and low. In a town, with a ruler. Like any other town, unlike any other ruler. Suzu, the girl's name is. Her parents lost to her at a young age, her days strict with an upbringing befitting of the now and future sovereign. But doubt had crept in for the life she lived. So out she stole one day, to that place one must never set foot, to the Forbidden Grounds. Far above the town the Forbidden Grounds lay. And there, Suzu finds a seed, the likes of which she has never seen before. What kind of seed could it be? Wondering, she wanders back and waters the seed… And there, it sprouts right before her eyes, a mysterious creature popping up from the dirt!
A startled Suzu timidly speaks, "…and you are?"

"Colu!" it peeped.

Suzu returns to the Forbidden Grounds, to find out just what the creature is. Beyond lays a world she has never seen, the secret of the town waiting hidden. And just like that, destinies are laid bare. All possibilities become one thread, spinning the ultimate truth. Will Suzu take hold and lead it to the end?
Source: Coluboccoro Kickstarter