For Aniplex, Anime Boston has always been a major stop in the convention circuit. Their panels pack the room with eager fans, who want little more than to see what's coming up next in the company's calendar.
In previous years, the event's been the host of license reveals, big and small. In 2014, the company revealed Mahouka, Mushi-shi, Mekakucity Actors and Nanana's Buried Treasure. In 2013, they announced that Sword Art Online would hit Toonami.
While this year didn't have that Sword Art moment, Aniplex's panel this year did offer a few surprises for those in attendance.
The panel began with a short trailer for the company's current releases, including Nisekoi, Sword Art Online, and Fate/stay night: Unlimited Blade Works.
After the trailer, panelist Joanna Metoki welcomed a special guest to the stage. Pop princess Lisa walked to the stage, escorted by a crew of cosplayers decked out in Sword Art Online II attire. She offered a brief greeting to the crowd, and took a moment to plug her concert, which would take place later in the day.
In her greeting, Lisa was bubbly and friendly, often pausing to laugh at her slight awkwardness in the situation.
As Lisa left the stage, the panel shifted back to business. Metoki steered the conversation back to Aniplex's products, starting with a brief notice about the Saturday dub première for Sword Art Online II.
Afterwards, Metoki began discussing Aniplex of America's current and upcoming streaming titles. Trailers were played, which were followed by informational slides that gave a brief rundown of when streaming would begin, and where the shows could be watched.
Specifically, Metoki highlighted the following:
Gunslinger Stratos
Plastic Memories
Fate/stay night: Unlimited Blade Works Season 2
Nisekoi:
Durarara!!
Aldnoah Zero
Your Lie In April
After talking up the streaming lineup, Metoki gave a brief announcement regarding Aniplex Plus. For the uninitiated, Aniplex Plus is Aniplex's speciality online shop, dealing strictly in limited-edition goods. To talk up the service, Metoki showed off several products, including a Royal Dress Saber (Fate/stay night) figure, and a Madoka Magica canvas set.
Metoki continued in this product-focused direction, highlighting items on the market, or those that would be hitting stores in the near future.
Specifically, the following products were shown:
Fate/stay night: Unlimited Blade Works Blu-Ray Set 1
Kill la Kill Blu-Ray Volume 4
Gurren Lagann Blu-Ray Volume 5
Nisekoi Blu-Ray Volume 3
Persona 3 The Movie 2: Midsummer Knight's Dream
Magi: The Kingdom of Magic DVD Set 1
Puella Magi Madoka Magica The Movie: Rebellion
Durarara!! Blu-Ray Set
Hanamonogatari Blu-Ray Set
The Garden of Sinners: Recalled Out Summer
World Conquest Zvezda Plot: DVD Set
Kill la Kill Blu-Ray Volume 5
Nisekoi Blu-Ray Volume 5
Magi: The Kingdom of Magic DVD Set 2
Sword Art Online: Standard Edition Blu-Rays
Anthem of the Heart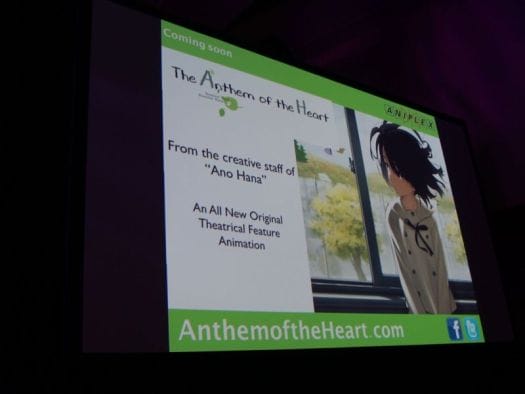 Nisekoi Volume 4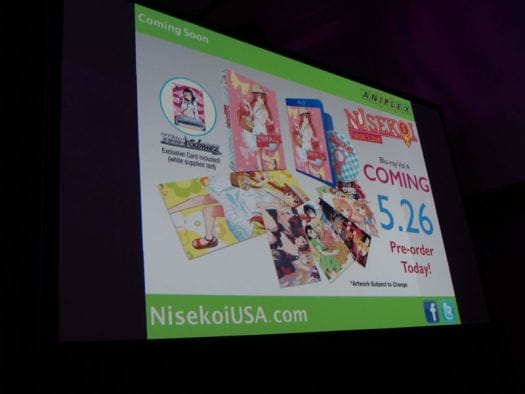 Following the Nisekoi Blu-Ray news, fans finally got to see the good stuff. The special announcements that fans were waiting for, were finally about to hit.
Three products would be shown for the first time at Anime Boston. The Irregular at Magic High School would begin hitting Blu-Ray on June 30, 2015. Expelled From Paradise was slated to hit stores on June 5, in both a limited and a standard edition.
Possibly the biggest reveal, though, was that Sword Art Online II would hit Blu-Ray starting on June 30. The series would ship on DVD and Blu-Ray, with a limited edition available.
The Irregular at Magic High School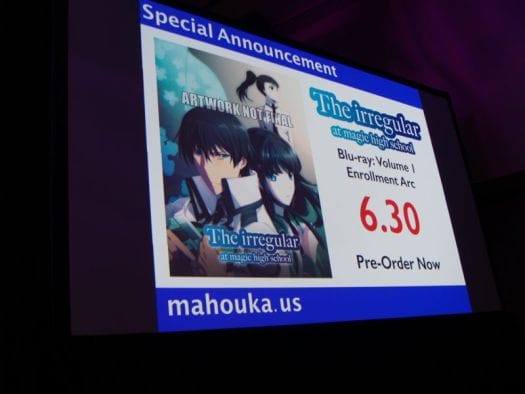 Expelled From Paradise
Sword Art Online II
The final moments of the panel were devoted to a short raffle, which saw fans taking home figures and posters for popular Aniplex properties.