Yamaha and Sound! Euphonium are supporting the arts!
Yamaha will team up with the various parties that produce Sound! Euphonium, to give aspiring musicians an extra push down the path to musical mastery. A new tie-in campaign, known as "The My Instrument Support Campaign," will reward customers who purchase Yamaha's instruments.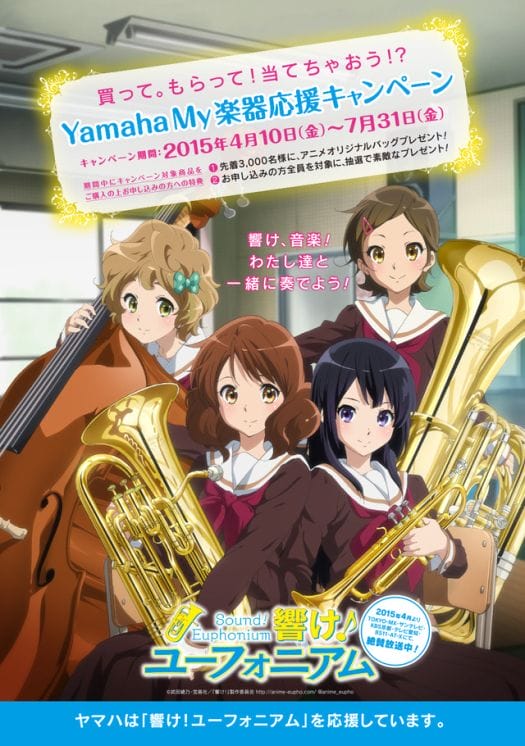 Fans who spend 50,000 yen ($415.90) toward the purchase of wind, string, or percussion instruments will be entered into a lottery to win additional goods.
The prize list includes (position in chart noted in parentheses):
S Class (5 Winners): Yamaha PAS Natura S Bicycle
A Class (5 Winners): Yamaha LSX-170L Lighting Audio System Relit (A-1) and Yamaha MCR-N560 Micro-Component System (A-2)
B Class (10 Winners): Yamaha LSX-70 Lighting System Relit (B-1) and a Piaggero Electric Keyboard (B-2)
C Class (20 Winners): Yamaha NX-B150 Bluetooth Speaker System (C-1) and Yamaha EPH-M2000 Earbuds (C-2)
D Class (10 Winners): Yamaha PDX-B11 Portable Bluetooth Speaker (D-1)
D Class (30 Winners): Yamaha HPH-M82 Headphones (D-2)
D Class (30 Winners): Yamaha EPH-W32 Earbuds (D-2)
The promotion will run from April 10 through July 31, with prizes expected to ship in late September. The first 3,000 customers who enter will receive a Sound! Euphonium tote bag.
For those who want a clean version of the key visual, we've provided it below:
Source: Netorabo