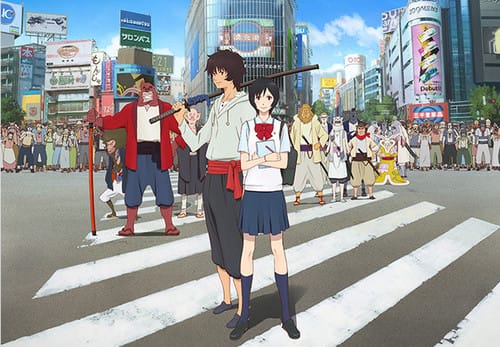 So, can we say that The Boy and the Beast is officially entering "beast mode"?
…Wow. That was awful. I should really stick to reporting.
Joking aside, The official cast list for Mamoru Hosoda's The Boy and the Beast was announced over the weekend. The film's roles will be filled as follows:
Kumatetsu: Kōji Yakusho
Kyūta (Child): Aoi Miyazaki
Kyūta (Adolescent): Shōta Sometani
Kaede: Suzu Hirose
Grand Master: Masahiko Tsugawa
Monk Momoaki: Lily Franky
Tatara: Yo Oizumi
Iōzan: Kazuhiro Yamaji
Ichirōhiko (Young): Haru Kuroki
Ichirōhiko (Older): Mamoru Miyano
Jirōmaru (Young): Momoka Ohno
Jirōmaru (Old): Kappei Yamaguchi
Chiko: Sumire Morohoshi
Kyūta's Father: Keishi Nagatsuka
Kyūta's Mother: Kumiko Asou
In addition, the official The Boy and the Beast website began streaming a pair of trailers: a 30-second teaser and a 90-second theatrical trailer. You can check both out below:
90-Second Trailer:
90-Second Teaser:
Several character visuals were released with the announcements, which you can check out below:
In addition to the new character visuals, three cast photos hit the web, which you can take a look at below:
The Boy and the Beast will be open in Japanese theaters on July 11, 2015. The film is an original story by Hosoda, which is set an alternate version of Shibuya. In the film, the world is divided into two realms: The human world and Jutengai, which is a realm of beasts. While the worlds are close, they were fated to never intersect.
Well, fate likes its plot twists.
One day, a human boy finds his way into Jutengai, where he meets a bear-like swordsman named Kumatetsu. The child begins training under Kumatetsu as an apprentice, eventually earning the name Kyuta from his master.
Source: Netorabo