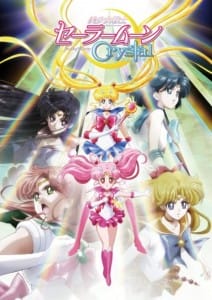 Shiny makeup, get your butts up, everyone! More Sailor Moon  is on the way.
Earlier today, Toei Animation Europe mentioned that a second Sailor Moon Crystal TV series is in the works. The new series is slated to begin airing this summer.
The first Sailor Moon Crystal made its début in July 2014, with new episodes airing on the first and third Saturdays of each month.
In North America, Viz holds the rights to both Sailor Moon and Sailor Moon Crystal. The series is currently streaming on Crunchyroll, Hulu, Neon Alley, and NicoNico.
We've reached out to Toei for further comment, but did not receive an answer as of press time.
Source: Anime News Network
Update: 4/14/2015
It looks like the big reveal was a miscommunication from Toei Europe. We reached out to the company, and received the following reply:
In Japan, the second season of Sailor Moon Crystal is currently streaming from this January ("Black Moon saga"). What the website news is telling is terrestrial TV broadcasting of the 2nd season in Japan will start from this summer.