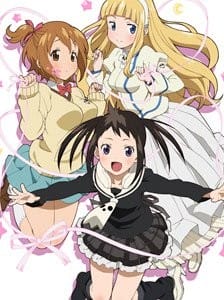 Class is back in session at Death Weapon Meister Academy!
On Thursday, FUNimation announced the English dub cast for Soul Eater Not!. The current cast list is as follows:
Tsugumi: Bryn Apprill
Anya: Alexis Tipton
Meme: Lindsay Seidel
Shaula Gorgon: Elizabeth Maxwell
Akane Hoshi: Ian Sinclair
Clay Sizemore: Bryce Papenbrook
Zach Bolton will direct the dub, with Cris George serving as assistant ADR director. The show's scripts will be handled by Bonny Clinkenbeard.
Soul Eater Not! is based on Atsushi Ōkubo's manga of the same name. It's a slice-of-life spin-off of Ōkubo's popular Soul Eater series that revolves around Halberd Demon Weapon Tsugumi Harudori, and her meister friends Meme Tatane and Anya Hepburn. FUNimation describes the series as:
Get ready to meet the newest class at Death Weapon Meister Academy! Tsugumi Harudori and her outrageous friends make up the NOT class at this stylish school dedicated to training living, breathing weapons and uniting them with the Meisters who'll wield them! Soul Eater fanatics will be psyched to meet these epic new characters – and catch up with all their favorites from the original series. Don't miss a minute of the adventure as Tsugumi and her pals weave their own exciting tale of deadly life at DWMA!
FUNimation produced a short teaser to promote the new dub, which you can check out below.
Soul Eater Not hits DVD and Blu-Ray on June 30.
Source: FUNimation Blog