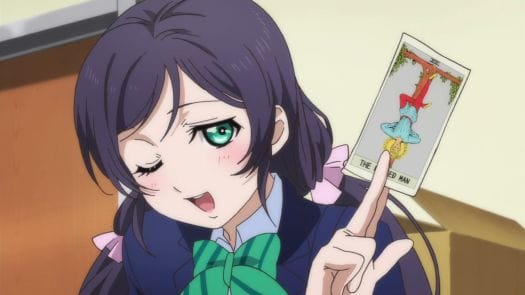 The cards say that it's Nozomin's turn to greet her adoring fans.
A few weeks ago, the Love Live! anime website opened a new section, which will feature short video greetings from all nine of the show's leading actresses. Each week, a new actress counts down the weeks the remain until Love Live! The School Idol Movie hits theaters on June 13.
This week's clip comes courtesy of Aina Kusuda, who plays Nozomi Toujou in the series.
The first two weeks featured messages from Nico Yazawa actress Sora Tokui and Hanayo Koizumi actress Yurika Kubo, respectively.
In addition to the video message, a new Nozomi Twitter icon and wallpaper were uploaded to the site:
Fans who missed the previous greetings can check them out below:
Sora Tokui (Nico Yazawa)
Yurika Kubo (Hanayo Koizumi)
Each week at midnight (Japan local time), a new video greeting and image set will be released on the Love Live! website.
Source: Love Live! Official Website