μ's! Music Start… again!
The latest issue of Dengeki G's magazine announced the main cast for the upcoming Love Live! Sunshine!! The roles will be filled as follows:
Chika Takami: Anju Inami (Naruto Stage Play)
Riko Sakurauchi: Rikako Aida
Kanan Matsuura: Nanaka Suwa
Daiya Kurosawa: Arisa Komiya (Tokumei Sentai Go-Busters)
You Watanabe: Shuka Saito
Yoshiko Tsushima: Aika Kobayashi
Hanamaru Kunikida: Kanako Takatsuki
Mari Ohara: Aina Suzuki
Ruby Kurosawa: Ai Furihata
Love Live! Sunshine!! is set in a small school in the seaside town of Uchiura. This tiny town, which isn't far from Numazu, Shizuoka, sports a school with fewer than 100 students enrolled. It's from this small school, that the next pop sensation will arise.
The new group still doesn't have a name yet, so the production team is turning to the fans for help. From April 30 through May 11, a poll will be held, in which fans can offer their input.
Aina Suzuki was a competitor in the 2013's Anison Grande Prix event, and Aika Kobayashi performed the ending themes for Freezing and Queen's Blade Rebellion.
You can check out a snippet from the announcement article below: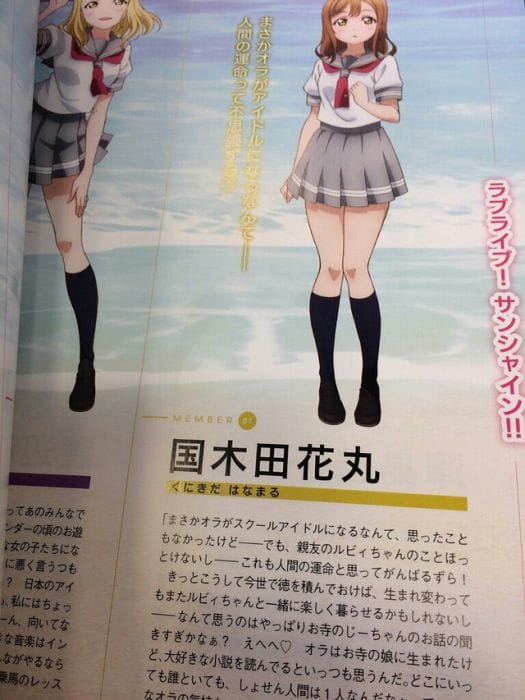 Love Live! Sunshine!! was first unveiled in February by Dengeki G's magazine. The initial reveal showed a red-haired girl standing at the center of a beach setting. A month later, the image was revised and updated, to feature the nine girls who will (presumably) make up the idol group in the series proper.
Source: Crunchyroll