Fans of Cross Ange may be seeing a new installment of the Rondo of Angels and Dragons.
Earlier today, Cross Ange producer Mitsuo Fukuda attended the Cross Ange Golden Week fan meeting in Tokyo. At the event, Fukuda revealed that the series sold enough copies on DVD and Blu-Ra to warrant a second season.
Fukuda's exact quote was "Well, it isn't like the series hasn't sold enough to warrant a second season." In addition, the producer mentioned that, while he'd like to do a continuation, Sunrise said that they were too busy with "a certain anime franchise that has been running for many years."
Still, Fukuda and planning producer Naotake Furusato told fans not to give up, and urged them to make their voices heard to both Sunrise and King Records.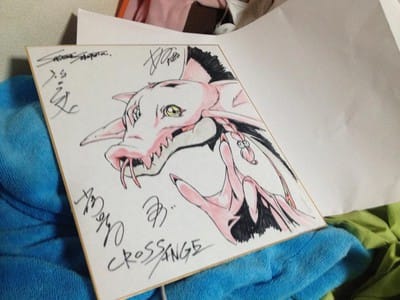 Even if successful, though, the announcement wouldn't arise at a fan meeting. Fukuda clarified his remarks, stating that the announcement of a second season would most likely be made in magazines, as is typical for the type of reveal.
The Cross Ange Golden Week fan meeting was held at Ikebukuro's Cine Libre theater, to celebrate the show's fifth DVD and Blu-Ray releases. Presents were given to fans via a lottery, and included items like signed scripts, as well as signed sketches of Vivian (in her DRAGON form) and her father, Villkiss.
Source: Anime News Network