Welcome, readers, to the latest instalment of AniWeekly! I'd like to extend a "Happy Mother's Day" to all of you AniMoms out there. I hope your day was filled with great times, and amazing anime!
This week, we saw a new player in the American Ghost in the Shell flick, a new Black Jack anime series, and much more!
In The News
Arslan's war of the Dynasty is underway! Last week, Bessatsu Shonen Magazine revealed that The Heroic Legend of Arslan is getting a video game adaptation. More exciting, Koei Tecmo is working on the title, which will be part of their popular Musou series!
Love and Triage. Sentai Filmworks surprised fans with a pair of license reveals. The company will release both Triage X and My Love Story!! in North America.
Jojo a go go? A truly interesting news tidbit hit Amazon's listings. A new product page reveals that Jojo's Bizarre Adventure will be released in North America, courtesy of Warner Brothers. We've reached out to Warner for clarification, and we'll keep the world posted once we get an update.
Hey Digimon, hey Digimon! During a live streaming event, the Digimon Adventure tri. staff announced that the series would no longer hit the airwaves. Rather, it's being upgraded to a series of six theatrical films. The first chapter will open in Japan on November 21.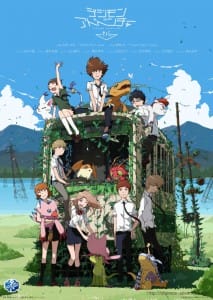 Paramount In The Shell. Paramount signed on as a co-funder and co-producer of the upcoming live-action Ghost in the Shell flick. Under the deal, Paramount will distribute the film in international markets.
Black Jack: the awkward college years. The latest issue of Young Champion magazine revealed that a Young Black Jack anime is in the works.
From The AniBlogging Community
Genres, garcon! More genres! The anime landscape continues to shift and change, as shows blend concepts and techniques from other popular titles. Unfortunately, along the way, something seems to get lost.
Seventh Style asks the question a simple question, while trying to make sense of Infinite Stratos: "What happened to genres?"
Put a smile on! Manga Therapy takes a deep dive into the science behind a smile, and marries the concept to anime classic Rurouni Kenshin.
From Aikatsu! to Food Wars. Organization ASG continues their "No Seiyuu No Life" series with a brief overview of Minami Takahashi.
Weekly Fun Stuff!
Animation company Rayark delivers a short, sweet message to moms across the globe with their latest "Mandora Short" cartoon.
This Week's Featured Swag
Price: $25.00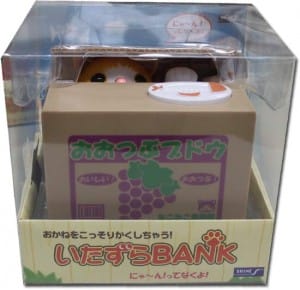 This adorable bank from the Shine Corporation manages to turn money saving from a chore, to an adorably addictive experience. The exterior of the bank features a non-descript box. Place a coin on the plate, though, and the bank springs to life!
The lid opens, and an adorable tabby cat peeks out, letting out a small meow before pulling the coin in with its paw.
It's a charming product, that belongs in the collections of cat fans everywhere… or just people who watch too many cat videos on YouTube!
All purchases from the This Week's Featured Swag section help to support Anime Herald.